Game Of Thrones' Season 5 Finale Absolutely Dominated In The Ratings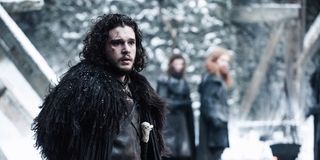 The season 5 finale of HBO's fantasy epic Game of Thrones was a stone cold bummer full of popular characters biting the dust and giving life to countless conspiracy theories about how certain characters aren't really dead. But as much as it enraged many viewers and inspired what is sure to be an endless circular debate that will rage until season 6 debuts, a lot of people tuned in to watch.
According to the Nielson ratings (reported by Variety), the episode, "Mother's Mercy," despite going up against the stiff competition of an NBA Finals game (sorry, Cavs fans), averaged 8.11 million viewers. Not only is that a significant 14% bump from the previous week's installment, which was 7.14 million, and the season 4 finale, watched by 7.09 million, this set a record for the popular series. The previous high came earlier this year, as 8 million folks tuned into check out the action in the season 5 premiere.
Just in case you were wondering how popular Game of Thrones is in comparison to other shows on cable, the adaptation of George R.R. Martin's Song of Ice and Fire saga is the second most watched series on cable behind only AMC's ratings juggernaut The Walking Dead. So it's in solid company.
After "Mother's Mercy," or more accurately, as the episode aired, social media lit up with a continual stream of disbelief, shock, and outrage, which continued and intensified through the very last moment of the season and beyond. I seriously hope you didn't check Twitter before you got a chance to watch the episode, which is a mistake I made briefly until I realized that it was just a continual stream of the internet yelling spoilers. And Monday, all that anyone wanted to talk about aside from Jurassic World's record breaking opening weekend was their shock and indignation and whether or not you-know-who is or isn't still alive (I'm just going to say, the prognosis looks rather doubtful, so many stab wounds).
A great many people were put off by the deaths of core characters, and one not-quite-a-death, and it was a totally grim way to wrap up a season. The fates of a number of important people are up in the air, a few are dead, a couple more are just completely screwed, and there are numerous cliffhanger style questions up in the air that fans won't have answers to until next April. Or I guess you could read the books if you're looking for more, but those are long and reading is hard, and I don't even know how much further Martin has written beyond this point anyway. Hopefully in the time between now and season 6 he'll hammer out some more pages.
Your Daily Blend of Entertainment News