Is Gilmore Girls Coming Back? Here's The Latest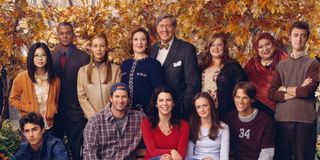 It's been 15 years since the WB aired the first episode of Gilmore Girls and over 8 years since the series finale. But the show remains a cult classic, documenting the lives of the coolest mom in the history of moms, and her smarty-pants daughter/sidekick/bff. Anyone who saw the show knew that Stars Hollow was pretty much the best town in the world, and Lorelai and Luke were destined to be together. But now, as the stars of the show have taken on bigger and better roles, is there any chance for a Gilmore Girls reunion? Well as it turns out, Scott Patterson, who plays the backwards hat-wearing diner owner, Luke Danes, just teased that there has been some activity on the matter.
Patterson stopped by the Gilmore Guys podcast to chat about the show and his character Luke Danes. But, during the fun gab session, Patterson revealed that fans may have more to look forward to. He revealed to the Gilmore Guys:
Fans already can look forward to the cast getting together next month at the ATX Television Festival in Texas where Patterson will reunite with Lauren Graham, Alexis Bledel, Kelly Bishop, Jared Padalecki, Danny Strong, Todd Lower, Jackson Douglas, Matt Czuchry and more. We can't be sure whether or not this 'activity' is referencing some sort of on-screen reunion, but if Luke Danes is hopeful, well, then any one can be hopeful.
As for Patterson, he's still continuing acting, with his next role in Lifetime's Kidnapped: The Hannah Anderson Story and also has been working on growing his art and photography business. Yes you heard that correctly, Luke Danes is an artist. If you had any doubts, take a second to remember when Luke built Lorelai a chuppah for her engagement to Max. It was gorgeous.
Whether or not we'll get to see what has become of Lorelai and Luke where the season finale left off, or just what the beloved Stars Hallow has been up to all these years. We'll just have to wait and see.
Your Daily Blend of Entertainment News