Supernatural's Jared Padalecki Cancels Appearances With Cryptic, Worrisome Tweets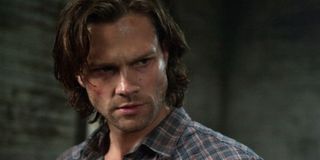 Supernatural stars Jared Padalecki and Jensen Ackles were scheduled to appear at JIBCON fan convention this weekend when Padalecki cancelled his appearance at the last minute with a set of very cryptic tweets. The messages, apologizing for having to miss the event, were very concerning to fans of the Gilmore Girls actor, who has previously suffered from depression. Here are his tweets:
The Supernatural duo had been traveling through Europe attending fan conventions, when Padalecki abruptly departed. Ackles, in true Winchester brother fashion, had Padalecki's back though, as he attended the fan convention solo. Ackles reiterated that Padalecki just needed some rest, attempting to lighten the mood, and subdue any worry in the crowd (as well as online fans who expressed their concern). Ackles joked at JIBCON (via Hollywood Life):
D'awwwww. The co-stars of 10 years have become brothers even outside the CW series, and Ackles knew exactly what to say to keep everyone calm. But, just a couple months ago, Jared Padalecki opened up to Variety about his own struggles with depression telling the publication that at times, even during shooting Supernatural he was very unhappy with his life, and had a lot of difficulty with it. The actor explained that he had been suffering from depression for years, and that it can affect anyone, which is why he started a T-shirt campaign to benefit To Write Love on Her Arms, a nonprofit that supports people suffering from depression, addiction, self-injury and suicide.
Padalecki is clearly very passionate about the subject and the hashtag he uses in his own cryptic tweet "#AlwaysKeepFighting" is the exact phrase on the t-shirt. The tweets are most definitely reason for concern, as any abrupt cancellation from two actors so involved with their fans would be. But until we know more, we'll have to take Ackles word that Padalecki just needs a little rest.
Your Daily Blend of Entertainment News
Thank you for signing up to CinemaBlend. You will receive a verification email shortly.
There was a problem. Please refresh the page and try again.