Glee Comic Con 2012 Panel Highlights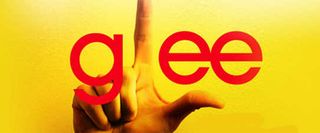 Glee came to Comic Con again with Lea Michele, Cory Monteith, Kevin McHale, Naya Rivera, Jenna Ushkowitz, Darren Criss, and producers Brad Falchuk, Ian Brennan, and Dante Di Loreto
Michael Ausiello hosted the panel and did the best he possibly could to get information out of the cast and producers about what Season 4 holds. Here's the rundown:
The season starts in September, school starts for McKinley and for Rachel in New York
Rachel's new teacher, played by Kate Hudson, isn't like Will at all, she uses negative re-enforcement.
Kurt and Santana are at McKinley when the season starts but not all characters do long distance relationships well...
Season 4's Britney Spears episode will be Season 4's second episode.
According to the producers Finn is "the question mark for Season 4"
McKinley needs new glee members and are "the underdogs" once again.
All of the regular cast will be returning, but not everyone will be in every episode. Chord Overstreet might be a regular, but that deal hasn't been made yet and Sam and Alex will be back from The Glee Project.
The producers talked about how Season 4 will be about the kids dealing with becoming adults and dealing with adult problems like rent and relationships. This transition happened to Rachel's character during her breakup with Finn. Lea Michelle said when she first read the scene, she thought it was out of character for Rachel but producer Brad Fulchuk explained: "Rachel had an idea about what love was, but needed to learn what adult love was. It was hard, but I wrote [the breakup scene] in one draft."
The rest of the characters will be back, but their "adult problems" were kept under wraps.
Here's some non-Season 4 highlights:
Fans had mixed reactions on Darren Criss' summer beard. He says he doesn't shave when he's not working and this is his 3rd or 4th beard of the summer.
Brad Falchuk says he's written the same Rachel/Finn scene 7 times and it always gets cut. So much so that Lea Michelle and Cory Monteith joke that whenever they shoot a one-on-one Rachel/Finn scene it was automatically cut.
The pilot originally started with a purposefully campy disco montage, but got cut because people wouldn't get the camp aspect and just thought the show sucked.
Ian Brennan would love to do 90 minute episodes
What advice would Season 3 give Season 1 Santana? Naya Rivera: "Stay away from Finn." There was a fainting scene where Rachel was supposed to fall into Finn's arms and on the first take Cory Monteith admits he "dropped" her. Lea Michelle: "You didn't drop me, you didn't even catch me."
The panel started out with a 10 minute fan video re-capping the whole Glee movement, and that's what I'll leave you with now.
GLEEK OUT.
Your Daily Blend of Entertainment News
Thank you for signing up to CinemaBlend. You will receive a verification email shortly.
There was a problem. Please refresh the page and try again.