Glee Watch: Season 3, Episode 10 - Yes/No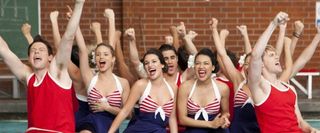 We've had to wait a while but with surprise twists like the one we got in last night's episode (and it wasn't Will and Emma's proposal) made it well worth the wait. Let's recap shall we?
Summer Fling
Well, we got our answer for what's up with Sam and Mercedes relationship. Sam is still holding a torch for her after their "summer fling" but Mercedes is sticking with her current boyfriend. Also did I miss the part when football boyfriend transferred schools and then returned? Sounds like a last minute plot line adjustment to me, Ryan Murphy. Btw Glee, nice spin on the popular "Grease" song. However, at first I was confused, thinking that Glee had rapidly moved through the season and somehow had jumped to September.
Proposals
It was no surprise that Will and Emma were getting engaged this episode, and I loved the synchronized swim proposal. But I'll admit I was worried for a second there when Will and Emma had a heart to heart about her OCD. And folks, the biggest surprise of the night was "Finchel." I was very, very shocked when Finn busted out a ring for Rachel. Talk about a cliffhanger! So, will they be the next "Cory and Topanga" and get married young, or will Rachel's aspirations of stardom get in the way? Looks like we'll just have to wait and see.
Sue, Cooter and Coach Beiste Love Triangle Update
In another relationship twist, Cooter and Coach Beiste got married! A quick courtship, but I'm hopeful it will work out for the best. And did you see Coach Beiste's glow? I don't think that's from all of the chicken/protein she's consuming. It's love, baby!
Coach Nene
As a fan of the Real Housewives franchise, I was thrilled when I heard one of my favorite housewives, NeNe, would be on the show. And that woman can act! I'm voting to make her a series regular.
Becky and Artie
Ah, Becky, one of my favorite Glee characters. And how awesome was it that her internal monologue is in a British woman's voice (Helen Mirren's, to be specific). I loved Becky's self-confidence in going after Artie. And it was so sweet of Artie to give Becky a chance; however, we all knew the two would never become a couple. And lucky for Becky, Sue who was also suffering a "broken heart" was there to pick up the pieces with ice cream and "Lifetime for Ovaries."
LOL Moments
Sue calling Coach Beiste Michael Chiklis in a wig was so on point because it so looks like it could be true! And the entire NeNe swim coach scene had me dying.
Memorable quotes
• Sue: "You can maybe go one day without the driving clothes. It's a wheel chair Artie, not a Porsche."
• Sue: "For God's sake, Amelia, it's 2012. If you wanna marry Will Schuester, ask him."
• Finn: "You're in synchronized swimming and glee club. That's like some kind of death wish."
• Becky: "Betty: I, Betty Faye Jackson, am the hottest bitch at McKinley High School... you may be wondering why I sound like the Queen of England. It's simple: in mind, I can sound like whomever I want. So lay off, haters."
Music featured
• Rihanna's "We Found Love"
• Rolling Stones and Maroon 5 mash-up "Moves Like Jagger and Jumpin' Jack Flash"
• 'Grease' "Summer Nights"
• Usher and David Guetta "Without You"
• Roberta Flack's "The Firs Time Ever I Saw Your Face"
• Laura Nyros' "Wedding Bell Blues"
Gleeks, we have to wait another two weeks for a new episode! (What up with that to quote SNL!) However, it will be well worth the wait because it is the Michael Jackson episode and based on the previews it looks like Santana and Sebastian have a pretty sweet duet. See you then!
Your Daily Blend of Entertainment News
Thank you for signing up to CinemaBlend. You will receive a verification email shortly.
There was a problem. Please refresh the page and try again.