Glenn Close And Creators Talk About Damages Season 2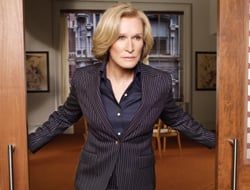 Season 2 of Damages is not far off, and today I got a chance to speak with creators Todd A. Kessler, Glenn Kessler, and Daniel Zelman along with star Glenn Close in a roundtable interview. We'll be bringing more of the interview to you as soon as we can, but for now let's get to some of the highlights about what to expect as Damages moves forward in season 2.
According to the producers we are going to get a lot more of Patty Hewes' (Glenn Close) personal life. Close talked a bit about how she doesn't know the details of what made Patty the woman she is today, even stating that when she began forming a backstory in her mind she was told to stop. "I'm glad I did." From what I've seen of Patty's relationship with Daniel Purcell (William Hurt) so far in season 2 I have to imagine he'll play a major role in the reveals about Patty's life.
The new foe, Claire Maddox (Marcia Gay Harden), is a much different enemy than Ray Fiske. Where Fiske was a friend of Patty's, Claire is unknown. This season will see the two battle as Patty learns more about the opposing council. The two powerful women have a similar style of confrontation and this will result in some great legal battles, as the first salvo fired in episode 2 can attest to.
As for Ellen Parsons (Rose Byrne) the creators have huge plans for her. They continually stated that they don't like to do the same things, and that things are not always as they seem. When the first episode ends with a chilling moment from Ellen fans can only hope that we'll get the same resolutions as happened in season 1. Without really giving it away the producers said we can expect to get an explanation, and it most likely will happen before the season ends.
Interestingly Todd A. Kessler discussed the relationship between Patty and Ellen, comparing it to a parent child dynamic. In season one we saw Ellen take her first steps in legal life, and now through season 2 she'll go through the adolescent rebel phase of the relationship. Details on what this will mean was sparse, but they did say that in season 3 the relationship will take on an adult role. I'll be interested to see whether Ellen becomes an enemy on equal footing as season 3 gets under way, or if she'll experience things this season that'll make her understand who Patty is. For sure we're going to find out much more of the woman behind the suit, and that may shed light on her decisions.
For her part Glenn Close was quite upset to learn Patty was behind David's death. But she explains it by what an emotional minefield Ray Fiske's suicide was for Patty. The aftermath of that continues in season 2.
Damages continues on Wednesday, January 7th at 10 pm ET.
Your Daily Blend of Entertainment News
Staff Writer at CinemaBlend.