HBO Renews True Blood And The Newsroom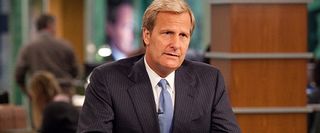 It won't come as much of a surprise that HBO has renewed its hit True Blood for a sixth season today, just a month after season 5 hit the air to strong ratings. Along with the vampires of Bon Temps, Aaron Sorkin's new drama The Newsroom has also been renewed for a second season only a week into its freshman run.
True Bloodhas become something of a flagship series for HBO, and still manages to stand out in s a growing sea of supernatural-based shows including several others that feature bloodsuckers of the immortal variety. Ratings for the fifth season are looking good only a few episodes in, and there was really never much doubt that we would be seeing Sookie and her unusual group of friends back for another season. As of today, it's official according to Deadline - HBO has given the series a sixth season.
Season 6 of True Blood will have on big question to answer: who will be running the show. Alan Ball has already announced that he'll be stepping down from the position at the end of the current season. Who will take his place and how that will affect the direction of the series should be the subject of much interest now that the next season is guaranteed.
With 2.1 million viewers having tuned in for the premiere of The Newsroom, the drama scored a stronger series premiere than True Blood did when it first aired to 1.4 million viewers. Of course, that's half of the viewers that the older series got for the episode that aired the same day as Newsroom's premiere, but still a strong first outing that obviously has impressed the people over at HBO. The drama, which stars Jeff Daniels as a news anchor dealing with a whole new set of colleagues in his once familiar environment, will get a second season without having to prove itself any further. Hopefully the rest of the season will live up to the vote of confidence.