How Deaf Model Nyle DiMarco Is Able To Compete On Dancing With The Stars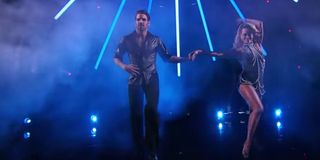 We never know what we're going to get with a new season of Dancing With the Stars, and much of the fun comes from watching unlikely candidates for the title of champion grow from amateur to expert. Season 22 has seen a seemingly unlikely contestant rise above other stars to dominate the stage. Deaf model Nyle DiMarco has found a way to work around his hearing impairment and has so far put on a heck of a great show thanks to a system of signals with partner Peta Murgatroyd.
The partners communicate via cues to keep them in sync with one another as well as with the music, according to ABC News. DiMarco will take visual signs from Murgatroyd's movements and Murgatroyd will convey steps through hand squeezes during a routine. By going through the sequences time after time after time, the duo is able to nail their dances and dazzle all who watch.
In fact, Nyle DiMarco and Peta Murgatroyd were so dazzling that DiMarco managed to be one of the stars tying for first place after the Season 22 premiere. The pair's cha-cha was enough to get them off to a very strong start in a tough field of competitors, including fine physical specimens in athletes, tried and true stars of the screen, and…well, Geraldo Rivera. Not everybody can be fleet of foot.
DiMarco earned his spot as one of the titular stars of Dancing With the Stars thanks to winning the final season of America's Next Top Model. The ratings for the final season were mostly abysmal, but we can definitely be grateful that the show hung in long enough for DiMarco to triumph in Season 22. While not many people may have seen him win that particular title, he'll undoubtedly have an impressive audience for as long as he continues on Dancing With the Stars. Check out his debut cha-cha with Peta Murgatroyd from the Series 22 premiere:
Watching the two dance, it would be impossible to guess that Nyle DiMarco was anything other than an experienced dancer, and those hand squeezes from Peta Murgatroyd were so unnoticeable that none of us could likely have known they were happening. Still, the duo weren't the conclusive winners of the first week of Season 22. The premiere ended with a three-way tie between DiMarco/Murgatroyd, Ginger Zee/Valentin Chmerkovskiy, and Wanya Morris/Lindsay Arnold. The competition is still plenty fierce, but we can say for sure that Nyle DiMarco isn't letting his hearing impairment get in the way of dancing his way toward victory.
To see more of Nyle DiMarco dancing his heart out, be sure to tune in to Dancing With the Stars on Mondays at 8 p.m. ET on ABC.
Resident of One Chicago, Bachelor Nation, and Cleveland. Has opinions about crossovers, Star Wars, and superheroes. Will not time travel.
Your Daily Blend of Entertainment News
Thank you for signing up to CinemaBlend. You will receive a verification email shortly.
There was a problem. Please refresh the page and try again.