How The IT Crowd Is Getting A Remake, Again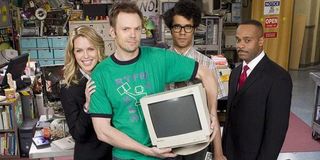 America has been trying to make The IT Crowd happen in the States for quite some time. This week, NBC ordered a Put Pilot Commitment for an American remake of the hit British comedy, which will be coming from Bill Lawrence, Neil Goldman and Garrett Donovan. This time around, I'm presuming the network is not going to throw Joel McHale into a sloppy t-shirt and consider him a prime candidate for the lead role. Here's what's going on with the new project.
Like the British show, The IT Crowd will follow a couple of IT guys working in the basement of a large company. They also have a new female boss who doesn't really know anything about technology or how to actually work on computers. The original starred Chris O'Dowd, Richard Ayoade and Katherine Parkinson. It was also incredibly funny. The new version hasn't hired on any funny people to star in the series, yet, but Deadline is reporting that Cougar Town's Lawrence and Community's Goldman and Donovan will executive produce alongside Jeff Ingold, Thom Beers and Craig Cegielski.
Here's how we got to this weird NBC project. The original British series ran for four seasons, as well as one special, which aired in December of 2013. Long before the British version of The IT Crowd finished airing, NBC actually was responsible for putting together another pilot based on the original series. The 2007 pilot they put together starred Joel McHale and brought back Ayoade for the other IT geek role. It was a mess and never moved forward, which ended up being a blessing in disguise for all Community fans across the globe. Even though that failed, multiple networks were interested in Lawrence's version, with NBC landing the bid.
Apparently, NBC feels that the new creative team can make The IT Crowd work on an American network channel. I really hope that they manage to find a premise and format that works, as The IT Crowd is basically a workplace comedy that could be just as funny in an American workplace as it is in a British workplace. Since it's the same network producing the new pilot, hopefully NBC has learned from the mistakes of the McHale pilot and won't be signing on a smartass to play an awkward due. Although NBC does have a track record of making the same mistakes over and over again.
We'll let you know if The IT Crowd ends up moving forward later this year. In the meantime, if you've got an extra 22 minutes, you can see why the laugh-track filled 2007 version of The IT Crowd totally failed. Head over to the next page to watch the full pilot.
[[ ahref http target _blank video www.dailymotion.com ]] The IT Crowd (US Pilot) by FreakStyler
Your Daily Blend of Entertainment News
Reality TV fan with a pinch of Disney fairy dust thrown in. Theme park junkie. If you've created a rom-com I've probably watched it.