Jason Gedrick Joins Season 7 Of Dexter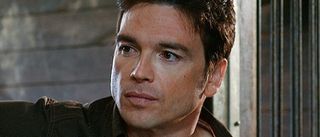 Jason Gedrick's luck hasn't run out, even if HBO's Luck is history. He's been cast in a multi-episode arc on Dexter that sounds likely to find him ending up wrapped in plastic. So perhaps, if he's in Dexter's sights, his luck is about to run out after all – or at least his new character's luck.
After the cancellation of Luck on HBO, in which Gedrick was appearing, due to the deaths of several horses, he will move on to playing a target for Dexter himself on season 7 on the Showtime series. According to TVLine, Gedrick has been cast as a Miami gentlemen's club manager who becomes connected with a murder, thus placing himself squarely in Dexter's path, which generally would land him in the kill room. That's all the details so far, but with the role being multi-episode it's likely there will be a more extended hunt on Dexter's part.
Season 7 of Dexter left him with some 'splainin' to do to sister Debra, and of course there's that awkward issue of her feelings for him. Which may, or may not, be changed by what she discovered at the end of Season 6. How Dex plans to move forward with business as usual in the kill room should be interesting to see, but it doesn't sound like he'll be packing away his knives.
Gedrick is best known for Boomtown and Murder One, and recently appeared on Necessary Roughness and the now-ended Desperate Housewives, in addition to his role on the not-so-lucky Luck.
Your Daily Blend of Entertainment News
Thank you for signing up to CinemaBlend. You will receive a verification email shortly.
There was a problem. Please refresh the page and try again.