Jenna Fischer Shares Office Secrets And Swag On Myspace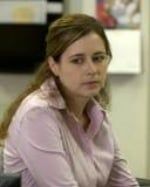 Contrary to popular belief, the popular online "place for friends" is more than just a playground for sexual predators. If you're a fan of The Office, then it is also the best place to get an insider's view of every aspect of the show from one of its most popular stars, Jenna Fischer.
In her most recent blog entry, Fisher writes of the sitcom's upcoming fourth season, "The scripts are hilarious…we are laughing a lot. The other day we got Steve (Carrell) to break in the middle of a scene – and Steve NEVER breaks." Although this little anecdote may not be the juicy plot spoiler or tantalizing tidbit of backstage gossip that would excite the tabloids, there are tons of true Office fans out there who are hanging on Fischer's every word. She currently has 117,125 "friends" linked to her page, and receives hundreds of comments on each blog entry.
While many celebrity Myspace pages are written by publicists or personal assistants, Fischer promises her fans that she writes every word of her blog and reads many of the comments. When a blog entry is stamped "From the desk of Pam Beesly", it means she is literally writing from the computer on Pam's reception desk while doing what she calls "background work" in a scene. Due to the faux documentary style in which The Office is shot, most of the actors need to be on set in most scenes, even when they do not have any lines, in order to keep up the appearance of a real office. The cast were given actual working computers with Internet access in order to keep themselves occupied during those long hours. Fischer has certainly put hers to good use, writing blogs and posting personal photographs on her Myspace page for the enjoyment of her fans. Although she never provides spoilers, Fischer will often share her reactions to certain storylines, along with behind-the-scenes anecdotes, and even advice on how to break into showbiz.
No matter what she's writing about, Fischer always comes across just the way you'd hope Pam's portrayer would- sweet, funny, and appreciative of her fans. Fischer even gives her blog readers a taste of the perks of being a celebrity in her periodic "Share the Wealth" contests, in which she gives away goodies from red carpet events to loyal fans who can answer trivia questions. Although these contests generate excitement on her blog, it's Fischer's down-to-earth writing that keep fans coming back for more.
Season Three of
[[ the office ]] will be available on DVD on Sept. 4. New episodes premiere on NBC starting on Sept. 27 with the first of four special hour long episodes.
Your Daily Blend of Entertainment News