Jeremy Piven In Talks To Star In ITV's New Drama Mr. Selfridge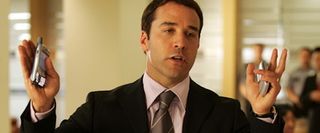 ITV has apparently been on the hunt for a high-profile American actor for the starring role in a series they have set to begin production in April, and they may have found one in Jeremy Piven. Word is, the Entourage star is in talks to star in the 10-episode ITV drama series Mr. Selfridge.
With Entourage having finished its run on HBO, many of us were wondering what Emmy and Golden Globe winning Jeremy Piven would do next. As it turns out, he may be heading over to London for his next TV role. According to Deadline, the star is in talks to play the title role in Mr. Selfridge, a drama based on Lindy Woodhead's book Shopping, Seduction and Mr. Selfridge. This series is set in 1909 in London and follows "the life of the flamboyant and visionary American entrepreneur, Harry Gordon Selfridge (Piven), and chronicle the launch of his famous London department store Selfridge's."
Given the huge success of Downton Abbey, another ITV period piece already sounds appealing. Factor in a star like Piven and it's likely that people on this side of the pond will be eager to get a look at it. Of course, we have to wait to see if negotiations go through. And then we have to wait for the series to premiere in the U.K. first, which isn't likely to happen until 2013, and hope it gets picked up over here (Deadline says it will be shopped to U.S.). Still, this is definitely interesting news and it sounds like it could be another great role for Piven, who was a regular scene stealer in HBO's Entourage.