A Jessica Jones Character Will Be In The Defenders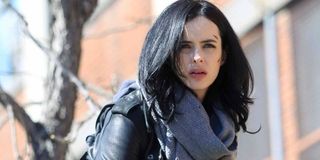 The Marvel universe on Netflix is big and only getting bigger. With four solo series that will ultimately see heroes teaming up for The Defenders, the characters of Daredevil, Jessica Jones, Luke Cage, and Iron Fist are potentially set for all kinds of crossover adventures. Rosario Dawson's Claire Temple has appeared in both seasons of Daredevil, as well as in Season 1 of Jessica Jones, and Carrie-Anne Moss' Jeri Hogarth jumped from Jessica Jones to a cameo on Season 2 of Daredevil. Now, it looks like one more character is confirmed for a series switcheroo, as Eka Darville will reprise the role of Malcolm for The Defenders.
Malcolm was one of the most important characters of Jessica Jones, and his journey from a junkie manipulated into submission by Kilgrave to Jessica's pseudo-sidekick was a highlight of the first season. Unlike Claire as a nurse and Hogarth as an attorney, Malcolm as Jessica's neighbor made him unlikely to cross paths with Matt Murdock or any of the rest of the Daredevil crew in that show's Season 2, so it's great that we'll definitely see him joining his pal Jessica on The Defenders, and it presents some interesting possibilities for where the story might go. Eka Darville does not yet know how much of The Defenders will feature his character, according to SpoilerTV.
By the end of Season 1 of Jessica Jones, Malcolm was clean of drugs and helping Jessica get back into business as a private investigator. He may not have been the most logical candidate to appear on any of the other single-character Marvel shows, but it makes plenty of sense for somebody close to Jessica to show up on The Defenders.
Darville confirming his appearance on The Defenders raises the question of whether any other familiar faces from Jessica Jones will be making the jump. Given how much Trish was in the middle of the action by the end of the first season of Jessica Jones, she would be a logical addition to The Defenders as well, assuming everything goes okay for her in Season 2.
Of course, The Defenders isn't going to be about Malcolm or Trish or even Claire any more than The Avengers was about Pepper Potts, but filling in the series' background with the heroes' acquaintances will be a great way to humanize the superhumans and keep the Defenders relatable. Marvel's movie side has done a great job using small characters to support the leads without distracting from the overall story, and we'll hopefully find the same balance with its Netflix series.
The Defenders is still in its early stages, so it'll probably be a while before we learn too much more about Eka Darville's role. We can almost certainly count on seeing him again in Season 2 of Jessica Jones, but the next Marvel series to be released on Netflix will be Luke Cage in September. For a look at what you can watch in the meantime, check out our schedule of summer TV premieres.
Resident of One Chicago, Bachelor Nation, and Cleveland. Has opinions about crossovers, Star Wars, and superheroes. Will not time travel.
Your Daily Blend of Entertainment News
Thank you for signing up to CinemaBlend. You will receive a verification email shortly.
There was a problem. Please refresh the page and try again.