Jessica Jones Trailer Teaser: Best Footage Yet Finally Shows Her Face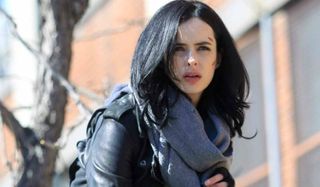 We're about a month away from the debut of the next Marvel series to be released on Netflix, Jessica Jones, and we still haven't seen a whole lot from Marvel to tip us off as to what we can expect…until now. Netflix has released a new Jessica Jones trailer teaser and we finally get to see what the title character looks like!
In this new teaser trailer for Jessica Jones released by the streaming media giant, who is partnered with Marvel to bring several gritty series to the service involving lesser-known Marvel characters with all sharing the Marvel Cinematic Universe, we finally get to see the title character up close and get an idea of how the series may proceed from a tonal standpoint.
In it, Breaking Bad's Krysten Ritter is Jones, a retired superhero who has opened her own detective agency once her superheroing career has come to an end, and she's seen pinning photos to a collage on a wall at 2:23 a.m. in Hell's Kitchen, New York. An accented voiceover begins, warning Jones that he "knows all her secrets and all of her friends." As Jones takes a careful look at the collage before departing in a hurry, the final shot closes in tight on the collage, from which two watchful eyes appear. The voice and the eyes presumably belong to Jessica Jones series co-star and former Doctor Who lead David Tennant, who plays Kilgrave, a man from Jones' past who has returned to force Jones to confront demons from her past. Also co-starring in the series is Mike Colter as Luke Cage, a character set for its own Netflix series as well. The Matrix trilogy's Carrie-Anne Moss also co-stars.
Of particular relevance to Jessica Jones is the comic book series Alias, not to be confused with the Jennifer Garner action spy drama that aired on ABC for five seasons. Alias, written and created by Brian Michael Bendis with Michael Gaydos handling art, ran for 28 issues between 2001 and 2004 and was one of the first series published under the Marvel MAX imprint, which ushered in a new era of edginess and grit to the Marvel Universe. Alias is used as source material for Jessica Jones, and it has been reported that Ritter boned up on the series in order to inform and authenticate her performance as the lead character.
Jessica Jones will enjoy a lot of crossover with other entities within the MCU, with Rosario Dawson reprising her Daredevil role as Claire Temple in a recurring capacity. Temple will also be involved in the Luke Cage series, and both Cage and Jones will appear in Netflix's The Defenders, wherein Jones, Cage, Daredevil, and Iron Fist will team up to fight crime in New York City.
What an exciting time to be a Marvel geek! Jessica Jones will debut on Netflix on Friday, November 20.
Your Daily Blend of Entertainment News
Thank you for signing up to CinemaBlend. You will receive a verification email shortly.
There was a problem. Please refresh the page and try again.