Legends Of Tomorrow Takes Shot At Daredevil With Newest Hero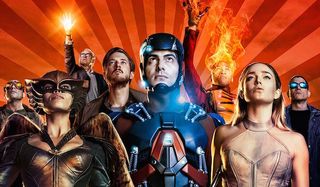 Rip Hunter's band of time travelers aren't the only heroes appearing in Legends of Tomorrow. Over the last week, DC Comics has been announcing classic heroes that will be gracing the CW series. The latest character to be teased is actually one of the few visually impaired superheroes, thus providing some healthy competition to Marvel's Daredevil. That's right, Doctor Mid-Nite is coming to Legends of Tomorrow.
Although Mid-Nite wasn't seen in the post on DC Comics' Instagram page, he was represented by one of his classic blackout bombs, which emit a black gas that clouds his opponent's vision. The post's line about Mid-Nite being the "original blind vigilante" is also accurate, as Doctor Mid-Nite debuted in 1941, while Daredevil wouldn't grace the printed page for another 23 years. So even though Matt Murdock's done a commendable job of keeping Hell's Kitchen safe, and is, arguably the more famous one, Mid-Nite's been at the superhero game longer. Doctor Mid-Nite is also the fourth Justice Society of America member that's been announced for Legends of Tomorrow, following the Ma Hunkel Red Tornado, Hourman and Sandman.
There have been three versions of Doctor Mid-Nite in the main DC universe. The first was Dr. Charles McNider (heh, name play), who was one of the original members of the Justice Society. In the 1980s, Beth Chapel briefly wielded the identity until she was killed in battle. The second most famous Doctor Mid-Nite was Pieter Cross, who joined the modern JSA as their main physician. All of them were blinded in accidents, but they gained the ability to see perfectly in the darkness. With the aid of special goggles, they're able to see in the light as well. McNider and Cross also use trained owls as sidekicks to aid them with taking on the bad guys. Doctor Mid-Nite previously cameoed in the animated shows Justice League Unlimited and Batman: The Brave and the Bold.
While a Doctor Mid-Nite appearance by itself is no doubt exciting to some fans, his addition also begs the question of whether the Justice Society will be seen in this DC TV universe. As mentioned earlier, Mid-Nite is the latest JSA member to be brought up, but someone else that will show up on Legends of Tomorrow is World War II hero Sgt. Rock. That was the era the original Justice Society was active, so if the team travels to this era, might they get to team up with these heroes from decades past? Or will Mid-Nite and the others be by themselves in separate episodes? We'll have to wait and see, but if the group appears, this would their second live action appearance, following the Smallville Season 9 special "Absolute Justice."
Legends of Tomorrow airs Thursdays at 8 p.m. EST on The CW.
Connoisseur of Marvel, DC, Star Wars, John Wick, MonsterVerse and Doctor Who lore. He's aware he looks like Harry Potter and Clark Kent.