Mad Men Renewed – An Interview With Rich Sommer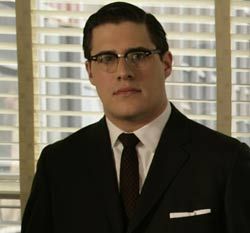 A critical hit on the television landscape, Mad Men, AMC's original series about advertising executives in 1960 New York City, has been renewed for a second season. Celebrity Stink contributor Tony Reid spoke with actor Rich Sommer, who plays nice-guy Harry Crane on the series.
Congratulations on your second-season pick up. You also have some other terrific news to share.
Thank you! Yes, more good news! My lovely wife and I are expecting a baby girl in December. She's a Mad Men baby... We started trying as soon as the ink began drying on my contract for the show.
And how long have you been married?
We were married in August of 2005, so just over two years.
You've appeared in film and television before. What previous work prepared you for Mad Men?
Well, to be honest, nothing really prepared me for Mad Men. I had worked on The Devil Wears Prada and a handful of other jobs -- several commercials, a Law & Order -- so I had been on a set or two, but this whole "series regular" thing is an entirely new ballgame.
You studied with the highly-respected Upright Citizens Brigade improvisational theatre group in New York City. How has your improv skills helped you with this show?
I think my improv experience has been critical to any acting jobs I've had. It's not as though I get to make up any lines -- our series creator and head writer Matthew Weiner is very clear about that -- but it always helps to be able to be spontaneous, both physically and in how you communicate each line. I'm so grateful for the time I spent both at the UCB and at The Brave New Workshop in Minneapolis. I credit both places with making me able to be comfortable with anything that's thrown at me.
From all the critical acclaim, one thing that is universally agreed upon is the spot-on accuracy of the sets and clothing. When filming is over, does the cast stay in the way-back machine or do you revert to current vernaculars? Is there really any difference?
Oh, we take off the sixties pretty quickly. It's funny; the first few weeks of filming, whenever I was done shooting and back into my street clothes, the same people I had just spent eight hours with would ask me who I was and what I was doing on set. I'm not claiming that that has anything to do with my acting; the costumes, hair and makeup just transform us in such an extreme way. No, we get back to 2007 as quickly as possible.
Are the clothes and props on the show vintage or were they re-created for the series?
Almost everything is vintage. I think every suit I wore was from the sixties. Some people had clothes made for them, but it was very rare. And the props are almost entirely legit. I love that set. It's like an antiques shop.
The chain of command at Sterling Cooper (the advertising agency depicted in the show) is pretty obvious and you're thrown right in the middle of it. Which colleague does your character Harry admire?
I think Pete (Campbell, portrayed by Vincent Kartheiser) is someone Harry respects professionally, although he's always ready to shake his head at him on the social front.
Whose job does Harry want?
Doesn't everyone want to be Don Draper? (The ad exec with talent, bravura and a dark secret, portrayed by Jon Hamm)
The mores of the era is really obvious here and women often have second-place status on the show. Does Harry have particular respect for any one woman?
Harry is married and knows that that means something, so he tends to be respectful of any woman who knows her stuff. When Peggy"(Olsen, portrayed by Elizabeth Moss) " first arrives, he treats her like everyone else does. But that devolves pretty quickly to just laughing along with the guys. Harry's so nice.
It appears everyone on the show is trying to or actually bedding someone who isn't their spouse. Who does Harry want to sleep with?
I have no idea. He's such a good guy that he never really lets on who he'd like to pounce on.
After living in the world of 1960 for awhile, is the rampant smoking and drinking appalling or appealing?
" Oh, God, it's appealing. I would love a job that was just filled with excess, wouldn't you? I like having fun at work. "
Harry's role has really grown and he no longer seems like just the frat boy. Can we expect more growing up for Harry in Season Two?
I hope so! I hope he sticks around for a while. He seems like a good touchstone for the other fellas. The nice, married guy. We'll see what happens, though. We're not quite The Sopranos, where everyone feared getting whacked all the time, but you never know when Cooper (Bertram Cooper, portrayed by Robert Morse) will get sick of all the sitting around and smoking and just fire all of us.
And speaking of all that smoking, did many of the cast members smoke prior to filming?
One or two did.
Are there new smokers now?
No, I think everyone escaped unscathed. We didn't smoke real cigarettes on the show because of a California workplace law (where the show is filmed). We had these godawful herbal cigarettes that are nicotine-free. That was good, of course, because it made them non-addictive. However, it also made them taste like crap. Man, they're awful.
I understand we share a nerdy pastime in board games that is particularly relevant to the show.
There's a new board game coming out in October called "1960: The Making of the President," which plays out the Nixon/Kennedy race. Obviously, that particular race is of some potential interest to our viewers, since Sterling Cooper is trying to get Nixon elected. Not to mention that the timing of the game's release coincides almost exactly with our twelfth episode, "Nixon V. Kennedy." I can't wait. Jason Matthew is the co-designer..
Rich, thanks so much for sharing your time with all the fans of Mad Men both current and unrealized. Good luck and we'll see you back in 1960!
---
Mad Men
appears on AMC and is also available on iTunes! Yay! Check out the AMC schedule for current showtimes.
And fans of board games and Mad Men can find more info here. It will be available at better game stores and online in October 2007.
Your Daily Blend of Entertainment News