Netflix Confirms House Of Cards Is Their Most-Watched Program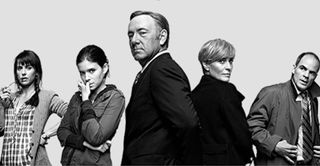 For as much publicity as House of Cards has gotten since its debut on Netflix nearly two weeks ago, there's been one fact that everyone wants to know but no one can actually learn: how well is it doing? Netflix said from the beginning that they wouldn't release any stats about how House of Cards was performing or how many new subscribers they had brought in, technically because the company is playing a long game. By releasing 13 episodes all at once, Netflix is inviting you to catch up with the show on your own terms-- and if that's six months from now, Netflix doesn't mind. They're not counting yet.
But alright, fine, they'll brag just a little bit. At the D: Dive Into Media conference (as reported by All Things D), Netflix Chief Content Officer Ted Sarandos said that House of Cards was their most-watched program… but declined to give too many details on exactly what that meant:
Not only that, but Sarandos says he has "no motivation" to talk about hard numbers, since with no advertisers House of Cards doesn't need to promote itself in the same way that network or even pay cable shows do. But I'm curious if that might change with Arrested Development, which won't just be a high-profile show for Netflix, but a possible model for how other shows saved from cancellation might make a comeback. Would they be forced to promote the amount of eyeballs they got to convince networks to sell their dead shows to them? Honestly, Netflix has been playing coy so successfully for so long that it wouldn't surprise me if they keep this quiet forever.
Staff Writer at CinemaBlend
Your Daily Blend of Entertainment News
Thank you for signing up to CinemaBlend. You will receive a verification email shortly.
There was a problem. Please refresh the page and try again.