Oprah's Next Chapter Premieres To High Ratings For OWN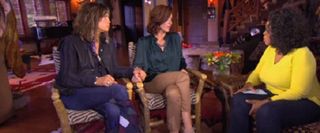 The appearance of Oprah's Next Chapter on OWN was a breath of fresh air for the struggling network, who needed more from its namesake to really compete. Though there was no doubt giving Oprah her own hour would push the network in a specific direction, there was still a nagging worry it wouldn't go as well as anyone had thought. Turns out, Oprah's Next Chapter did do well, and it didn't, depending on your outlook.
Oprah's Next Chapter premiered on January 1. During the first episode, Oprah spent a day with Aerosmith singer Steven Tyler. The two drove around, walked in the woods, met up with Tyler's daughter, Mia, and even spoke with Tyler's now fiancé, Erin Brady. The whole format seems to have worked. According to Deadline, the episode brought in 1.1 million viewers, ranking it as the second highest ever telecast on OWN, following Season 25: Oprah Behind The Scenes, a special that premiered on January 1, 2011.
Here's where the glass-half-empty outlook could make an appearance. Sure, Oprah's Next Chapter did well, garnering a larger audience than OWN normally sees. However, 1.1 million viewers isn't even close to the 16.4 million viewers Oprah managed for The Oprah Winfrey Show last May. It's not even a lot compared to some of the numbers other cable stations are doing. If Oprah can keep up the interesting content, I have every faith Oprah's Next Chapter will pick up viewers as it moves along (although maybe not in the droves Oprah has seen in the past). Hopefully, that will be enough to keep OWN on track.
Your Daily Blend of Entertainment News
Thank you for signing up to CinemaBlend. You will receive a verification email shortly.
There was a problem. Please refresh the page and try again.