Orange Is The New Black Season 3: What We Know So Far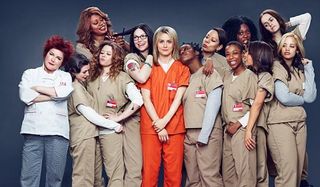 One of the most talked-about shows of the year, the Emmy-winning Netflix Original Orange is the New Black is currently on the long prison van ride toward Season 3. So it's about time we start talking about where the character-filled comedy drama will be headed next year, and which characters will be getting due development.
SPOILER ALERT: This article will contain spoilers about the events of Season 2, so watch what you need to before reading further.
When Will Orange is the New Black Season 3 Air?
Netflix has announced that Season 3 will stick to the summer release schedule of seasons past and will hit the streaming service on Friday, June 12. You can find all of Netflix's upcoming releases here.
In addition, Netflix has already renewed Orange is the New Black for Season 4, which will hit the schedule sometime in 2016.
Where Did We Leave the Litchfield Prisoners?
When everything faded to orange at the end of Season 2, Litchfield was on lockdown after Vee escaped through the trafficking spot in the greenhouse. Of course, most of the people inside were happy to see the manipulative and domineering Vee get the hell out of Dodge, and they'd have been even happier to know that the terminally ill Rosa, whom Morello allows to escape with the escort van, ran Vee down as she was presumably about to go into hitchhiker mode. Rosa is finally happy now, if not completely at peace, and Vee is (hopefully) dead on the side of the road with blood leaking from her nose. There's always the chance that she's still alive, but her arc here is complete, and Jenji Kohan would do fine to let that chapter end.
Meanwhile, inside the prison, Piper was not quite still seething at the budding relationship between former fiancé Larry and former best friend Polly, but mostly because she had a hand in getting her lesbian lover/friend/enemy Alex back into Litchfield. Alex, meanwhile, wasn't too pleased to realize that her time as a relatively free woman was coming to a jumpsuit-filled end.
Taystee, Black Cindy, Jenae and Poussey were all very happy to finally be free of Vee's psychotic matriarchy, while Crazy Eyes was mourning the loss of the one person in the prison who understood her and cared for her. (While also playing super evil mind games with her, but that went over Crazy Eyes' head.) Big Boo and Nicky came to something of a mutual understanding that they'll be holding onto Vee's former heroin stash for their own side gig next season. Sister Ingalls ended her hunger strike. Soso finally came to the understanding that prison sucks and changes people. Red was still on the mend from getting whacked with the lock-in-a-sock, although her face looked even more like a bacteria warzone by the end.
And Pennsatucky still doesn't have any friends; not even Healy anymore, really. As it should be.
Where Did We Leave the Litchfield Authorities?
Connecting the inmate-guard relationships most directly are Bennett and Daya. She's obviously still pregnant with his kid, and he's obviously still very uncomfortable with letting people know. But after putting Pornstache away and having Daya come down on him for responsibility's sake, Bennett tried to confess to Caputo, but it didn't go well for his sense of morals.
The slimy-but-not-entirely-reprehensible Caputo is now trying to relish his new position as Assistant Warden (Assistant to the Warden), but just because he isn't already as corrupt as his predecessor Fig doesn't mean he's going to have a smooth run at things. He shut down Bennett's attempts to come clean about getting Daya pregnant, which means we'll be hearing a lot more about that next season. (Joy.) And just when he was trying to get his first victory – having Sister Ingalls publically say her hunger strike is over to her former sisterhood – that's when Rosa went speeding right through the exit. His life will always be complicated, even when blowjobs aren't involved.
And then there's Healy, who probably also doesn't understand where he is mentally. He seemed pissed that his Safe Zone meetings weren't popular, but then he appeared to be pretty proud of himself for getting Crazy Eyes out of trouble for Red's attack. Healy is a man constantly in flux with his emotional progression through life.
Fig the Embezzler got to lose her job in style by resigning with benefits, though it took an emotional toll. It doesn't seem like she'll be coming back, but I wouldn't mind her popping in to making Caputo's life a living hell for an episode or two.
What's In and Out for Season 3?
Cast member Laura Prepon, whose role in Season 2 was pretty limited, will return next season as a regular cast member. Which makes sense, since she'll be back in Litchfield and causing lust-filled havoc in Piper's life.
One notable new cast member is the multi-hyphenate stand-up comedian Mike Birbiglia, who is taking on an unknown role. The same level of secrecy is being given to the new role that Mary Steenburgen will be playing. Fringe actress Blair Brown also signed on in an undisclosed role. In addition, a new character will be introduced who will be based on home decorating guru Martha Stewart. All this secrecy!
Luckily, there is a bit of information attached to actress Marsha Stephanie Blake (Stand Clear of the Closing Doors), who joined the cast in the recurring of…an as-yet-unnamed corrections officer. Litchfield has a little bit of trouble keeping those around, having already lost Fischer and Pornstache.
As far as characters we can expect NOT to see when Season 3 rolls around, It looks like Piper's ex-fiancé Larry will be completely M.I.A., as actor Jason Biggs left the show after the second season. Alysia Reiner won't be coming back, nor will Pablo "Pornstache" Schreiber (who has a role on the HBO comedy The Brink) or Diane "Ramos" Guerrero (who has a role on The CW's Jane the Virgin).
What Will Season 3 be About?
At this point, Orange Is The New Black creator Jenji Kohan has been pretty tight-lipped about things, and the only clue she's really come out and said is that Season 3 will be "about faith." Does that mean church-filled flashback episodes? Or perhaps ones where characters have to put their faith in other less trustworthy characters? Will one episode be about the George Michael song "Faith?" We'll just have to keep our eyes and ears open for when Kohan decides to drop a plot synopsis on us.
The Golden Globe-nominated Orange is the New Black (opens in new tab) will return to Netflix in June 2015.
What Footage Have We Seen?
Here's the first full-length trailer for Season 3, and it's a doozy.
Now here's a fun little Christmas song promo Netflix recently put out on YouTube.
Assistant Managing Editor
Nick is a Cajun Country native, and is often asked why he doesn't sound like that's the case. His love for his wife and daughters is almost equaled by his love of gasp-for-breath laughter and gasp-for-breath horror. A lifetime spent in the vicinity of a television screen led to his current dream job, as well as his knowledge of too many TV themes and ad jingles.
Your Daily Blend of Entertainment News
Thank you for signing up to CinemaBlend. You will receive a verification email shortly.
There was a problem. Please refresh the page and try again.