Petals On The Wind Photos Tease Ballet And Family, May Premiere Date Set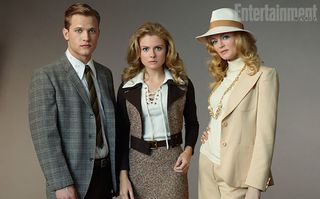 We have our first look at the Flowers in the Attic sequel in development at Lifetime, and from these Petals on the Wind character photos, it looks like the followup may be aiming to get one major thing right. Cathy is a dancer! What's more, the TV movie now has a premiere date and it's not so far away! Petals on the Wind will air on Lifetime on Monday, May 26.
(Spoilers if you haven't seen Flowers in the Attic or read the book ahead!)
EW shared the news of the anticipated air date for Lifetime's Petals on the Wind, which will star Rose McIver as the grown Cathy Dollanganger -- the role previously played by Kiernan Shipka in the Lifetime TV movie -- and will jump the story a decade ahead of the events in Flowers in the Attic, which left off with Cathy, her brother Chris and their little sister Carrie escaping Foxworth Manor after spending years locked in an attic by their abusive grandmother and selfish, negligent, eventually-murderous mother.
While the above photo reveals Chris, Cathy and Corrine looking fit for the '60s, this next one shows us Cathy in dance-pose with Julian (Will Kemp), the dance partner with whom she engages in a pretty turbulent relationship, due in large part to him being nearly as damaged as Cathy is, for his own reasons.
Romance is a complicated area for Cathy, who --- as you may recall from the first film -- engaged in some inappropriate (ok, totally incestuous) behavior with her brother when they were locked up in the attic together. If you think the shadow of that situation won't follow them into their adult years, you'd be wrong. In fact, much of the second book focuses on the aftermath of the years spent in the attic as Cathy sets out to exact revenge on the people who hurt her and her siblings.
Cathy's dancing wasn't completely overlooked in Lifetime's Flowers in the Attic adaptation, but it wasn't nearly as emphasized as it should have been by comparison to the book. In Andrews' novel, dancing is one of Cathy's big escapes and it's part of her transformation -- if that's even the right word for it -- between who she was pre-attic and what she becomes throughout the ordeal and after. She spends hours each day practicing and fine-tuning her craft, which factors in heavily with her efforts to make it as a prima ballerina in the next book. So it's promising to see a dance-focused promotional photo for Petals on the Wind, as i'm hopeful that Cathy's ballet pursuits play a more substantial role in this next adaptation.
We know that Heather Graham is set to reprise her role as Corrine, Cathy's mother. And that Wyatt Nash has signed on to take over the role of Chris, who's an adult now, as is Cathy. And Ellen Burstyn and Dylan Bruce will return to their roles as Olivia (the Grandmother) and Bart (Corinne's husband) respectively. While Burstyn's role is expected to be diminished in Petals on the Wind, if the film follows V.C. Andrews' novel closely enough, we'll be seeing more of Dylan Bruce in the follow-up, as Bart factors into the story a bit more than he did in Flowers in the Attic -- to put it vaguely... and mildly.
And then there's the premiere date. May 26 at 8:00 p.m.! That's just a couple of months away. Lifetime's clearly not wasting any time in their efforts to deliver this sequel to viewers, and given how well the first film did, that's not surprising. But it's still great news to know it's coming soon. And it's also worth noting that it's a Monday, which is a shift from the Saturday premiere they did for the first film. It'll be interesting to see how this followup does.
Assistant Managing Editor
Kelly joined CinemaBlend as a freelance TV news writer in 2006 and went on to serve as the site's TV Editor before moving over to other roles on the site. At present, she's an Assistant Managing Editor who spends much of her time brainstorming and editing feature content on the site.
Your Daily Blend of Entertainment News
Thank you for signing up to CinemaBlend. You will receive a verification email shortly.
There was a problem. Please refresh the page and try again.