Peter Pan Live Casts Girls Star As Lead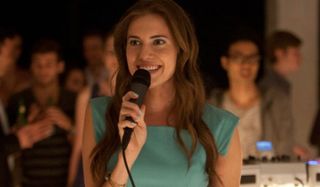 Allison Williams made waves as Hannah's snooty best friend (or frenemy) on the acclaimed HBO series Girls. But now she's living the dream of her twenty-something anti-heroine, having landed the lead in NBC's upcoming live musical Peter Pan. The network shared this casting coup on Twitter:
Following the success of The Sound of Music's live staging, NBC has been eager to repeat this kind of win. So the network has been seeking not only a property that would appeal to a broad audience, but also one that could attract more noteworthy stars. Carrie Underwood was of course a draw for The Sound of Music Live, but her performance of Maria Rainer received the kind of scorn she may never fully live down. NBC needed to raise the bar this time around.
Earlier this month, Peter Pan's live event earned headlines and fan enthusiasm with the casting of Christopher Walken as its Captain Hook. As well it should, Walken has a compelling screen presence, whatever the role. And we espect they'll give the trained dancer a moment to dazzle.
At the time, it was suspected that Frozen star Kristen Bell would step into the lead role of Peter Pan, a part that for many was defined by Mary Martin in the live broadcast from 1955. However, it seems Bell's deal could not be worked out, and so she's walked away from NBC's Neverland. But this is great news for Allison Williams, whose most memorable song styling to date might be this painful but hilarious moment from Girls, when Marnie embraced her inner pop star to sing a cover of Edie Brickell and New Bohemians' "What I Am":
Personally, I will be watching Peter Pan imagining Williams is Marnie playing Peter Pan. That will just amuse me infinitely. But Girls fandom aside, Williams seems a solid choice for the role. While Carrie Underwood is a renowned singer, she's not much of an actress. NBC's next live musical needs someone who can act and sing. And while the above video is laughable, it's purposefully so. To see Williams rock a song, check out her twist on the Mad Men theme song...
Staff writer at CinemaBlend.
Your Daily Blend of Entertainment News
Thank you for signing up to CinemaBlend. You will receive a verification email shortly.
There was a problem. Please refresh the page and try again.