Red Faction Origins Preview: Takes Place Before Armageddon But Airs After It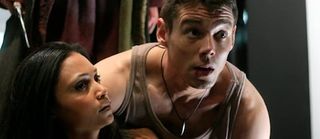 I'm afraid when it comes to video games, my knowledge doesn't extend much further than Angry Birds, a few decent guitar performances on Rock Band and an embarrassing amount of hours spent playing The Sims 3. So, when it comes to Red Faction, there's little I can offer in the way of personal opinion. With that said, I do have a trailer and some information on Syfy's Red Faction: Origins movie, which is set to air less than a week after Red Faction Armageddon's release date.
Red Faction Armageddon (the video game) is set to hit shelves on May 31st. You can view the trailer for the game here. Meanwhile, Syfy has partnered with THQ Inc. for a TV movie called Red Faction: Origins, which airs Saturday, June 4, at 9PM (ET/PT) and takes place in the time-frame between the games Red Faction: Guerrilla and the upcoming Red Faction: Armageddon. Directed by Michael Nankin (Caprica, BSG), Red Faction: Origins stars Brian J. Smith (Stargate Universe), Robert Patrick (Terminator 2: Judgment Day), Kate Vernon (Battlestar Galactica), Danielle Nicolet (The Starter Wife), Gareth David-Lloyd (Torchwood), Tamzin Merchant (The Tudors) and Devon Graye (Dexter). Further details on the plot of the movie are below, and further down you'll find the trailer.
Your Daily Blend of Entertainment News
Thank you for signing up to CinemaBlend. You will receive a verification email shortly.
There was a problem. Please refresh the page and try again.