SNL Creates A New Game Of Thrones Kingdom In Hysterical Mock Episode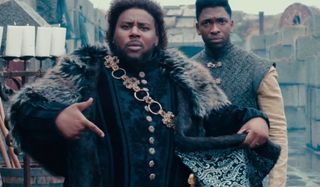 Ever wonder what would happen if HBO's Game of Thrones and the 1991 John Singleton film, Boyz n the Hood came together? Well, I certainly never did. And with Empire's Taraji P. Henson hosting last night's episode of NBC's Saturday Night Live, a mock version of Game of Thrones, Empire-style would've been expected, especially since the two shows are often compared. But, leave it to SNL to pleasantly surprise us with a hysterical Boyz n the Hood-inspired take with the eighth kingdom of the realm, South Centros.
The 'new episode guest directed by John Singleton' starts out like any other Game of Thrones episode with the stunning title sequence of Westeros and the Seven Kingdoms, except this time around, a new kingdom will be explored. The eighth kingdom, South Centros inspired by 1991 American hood drama starring Ice Cube, Cuba Gooding Jr. and more, is a bit different from the typical Westeros. But their kingdom still experiences many of the same problems. The difference seems that South Centros has a tougher outlook on Westeros and beyond the wall. Kenan Thompson who plays 'special guest' Ice Cube in the parody is rocking the typical Night's Watch garb and boasting that he isn't afraid of what lies beyond the wall (specifically Lannisters) because he's "breeding dire wolves". That's when we get our first cameo by none other than Jamie Lannister (Nikolaj Coster-Waldau) who motions to Ice Cube a subtle 'I'm watching you'.
While Jamie Lannister's cameos were definitely highlights, the specific lines taking jabs at the HBO show made this parody even more hilarious. "People die here all the time, suddenly and for no damn reason" is probably one of the biggest critiques of Game of Thrones. Whether you love or hate the unexpected deaths of key characters in the plot, they are definitely moments that viewers stay talking about.
And when promptly asked, "When is this going to end?" Michael Che's character has the perfect response.
Saturday Night Live has taken on Game of Thrones and while this particular parody may not be the funniest of the bunch, it was still an amusing ride. And with the Season 5 release of Game of Thrones tonight at 9 p.m. ET, it has certainly gotten us pumped for the return to Westeros.
Your Daily Blend of Entertainment News
Your Daily Blend of Entertainment News
Thank you for signing up to CinemaBlend. You will receive a verification email shortly.
There was a problem. Please refresh the page and try again.