Scandal Season 4 Premiere's 'Randy, Red' Title Revealed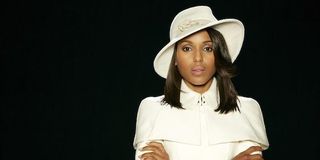 Scandal Season 4, Episode 1 has a title! And though it doesn't exactly give a whole lot away about what fans of the ABC drama might expect from the season premiere, which is scheduled for September, "Randy, Red, Superfreak and Julia" serve as a nice little teaser to remind us that Olivia Pope will be back in just a matter of months!
Scandal creator Shonda Rhimes Tweeted the following script page, along with the caption "The script."
In addition to the title, the cover page confirms that Shonda Rhimes has written this episode herself and that director Tom Verica is at the helm for this installment. It's worth noting that the Season 3 finale was directed by Verica and co-written by Shonda Rhimes.
TV Line speculates that the title references Olivia's gladiators, with Quinn being the "Randy" one, Huck being the "Superfreak" and "Abby" being red. It's a possibility that one or more of those guesses are correct, especially if we factor in the mysterious "Julia," who's the only person mentioned by actual name in the episode title. Assuming TV Line's guess about the meanings behind the first three words is on the right track, maybe this episode is set to focus on Abby, Huck and Quinn and their shared or separate interactions with the presumably newly-introduced "Julia." Or maybe the three of them are teamed up on a job that involves a woman named Julia.
And who's Julia? Is it possible she's Portia de Rossi's "top secret" mystery character? We don't know who de Rossi is set to play in Season 4, only that it was recently announced that the Arrested Development star signed on for a "top secret arc" on Scandal. So, again, we can really only speculate. But it's exciting to get some clues about the upcoming season of Scandal, especially as we await the fate of Olivia Pope, who was last seen leaving it all (or mostly) behind and jetting off into the sunset with Jake. We expect to hear more about what's ahead for Scandal as the series' return approaches.
ABC is making a night out of Shondaland on Thursday this fall. Beginning September 25, ABC will air Grey's Anatomy, Scandal and Shonda Rhimes' newest drama How To Get Away with Murder on Thursday night.
Your Daily Blend of Entertainment News
Thank you for signing up to CinemaBlend. You will receive a verification email shortly.
There was a problem. Please refresh the page and try again.