Shannen Doherty Will Be WEtv's Newest Bridezilla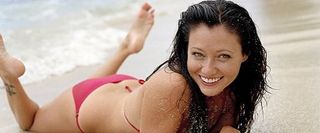 WEtv is taking their chances on a star well known for the kind of off camera antics that have left a slew of angry co-stars in her wake. The Hollywood Reporter confirmed today that the cable network will go ahead with the rumored plan to put Shannen Doherty's personal life on the small screen. The reality series will follow her on her journey to the altar. And just in case watching Doherty lose it over flowers and vows isn't enough, apparently she and her fiancé will also be in the middle of renovations on their home.
Doherty is currently engaged to photographer Kurt Iswarienko. She has been down the aisle twice already and there was a third fiancé who didn't quite make it; Dean Factor ran for hills before saying "I do" after Doherty allegedly pulled a gun on him and made some rather nasty threats involving sodomy. Who wouldn't want to marry this girl?
WEtv does love their crazy brides; one of their most popular series is the aptly named Bridezillas which features brides who lose their cool repeatedly over wedding day plans. Doherty's reputation may draw in viewers who can't get enough of the pre-marriage nuttiness that seems to take over even the nicest of girls.
The 90210 star will join former co-star Tori Spelling in the realm of reality TV; Spelling's personal life has been in front of the cameras since 2006 in various incarnations. Doherty's reality TV run is expected to end when she and her fiancé finally make it down the aisle; I suppose most viewers will tune in to see if they actually make it, and what sparks might fly along the way. The series is set to start production in August.
Your Daily Blend of Entertainment News
Thank you for signing up to CinemaBlend. You will receive a verification email shortly.
There was a problem. Please refresh the page and try again.