Sharknado Week Headed To Syfy This Summer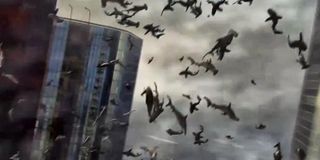 Syfy may not always have the best eye for original content, but the network sure knows how to replicate a successful venture. This time, they've taken an idea from Discovery's playbook and are using the concept behind the channel's successful Shark Week to bring even more eyeballs to—you guessed it—Sharknado. Here's what you need to know about Syfy's upcoming "Sharknado Week."
Following the success of last summer's original movie, Sharknado, Syfy decided to move forward with a sequel. The network got really interactive with the project, asking fans to choose a title, eventually calling the movie Sharknado 2: The Second One. It took months for Sharknado 2 to go into production, but now the TV flick is headed for a July release. The network also has several other shark-related programs in the works at the moment, which led Syfy to the perfect lightbulb moment: Sharknado Week.
The lineup includes Sharknado 2, Mega Shark vs. Mecha Shark, Sharkmania: The Top 15 Biggest Baddest Bites and Roger Corman's Sharktopus vs. Pteracuda. Because Syfy isn't as efficient at churning out vaguely sci-fi related shark content as Discovery is at churning out actual shark content, "Sharknado Week" will not air as a marathon. Instead, audiences can tune in during primetime for a brand new project every night. Mega Shark vs. Mecha Shark will kick off the event on Saturday, July 26 at 9 p.m. ET. The following night, Syfy will get even looser with its concept, airing Sharkmania, a documentary show looking at the 15 best cinematic shark bites of all time. That will air on Sunday, July 27 at 9 p.m. ET.
Interestingly, Syfy isn't planning to close out Sharknado Week with an actual Sharknado flick. Instead, Sharknado 2: The Second One will air on Wednesday, July 30 at 9 p.m. ET. The show's horrible summertime timeslot does not inspire much confidence in the project, but since a third movie is on the way, Syfy can't think it's that much of a disaster, right? At least Sharknado 2 sports an interesting cast, with Ian Ziering, Tara Reid, Mark McGrath, Vivica A. Fox, and Judah Friedlander signed on, as well as additional cameo appearances from the likes of Kelly Osbourne, Judd Hirsch, Perez Hilton, Matt Lauer, Al Roker, Andy Dick, Robert Klein, Sandra "Pepa" Denton and Biz Markie.
Despite the eccentric cast, Syfy seems to be showing the most confidence in Corman's latest project, Sharktopus vs. Pteracuda, which is also a sequel of sorts. According to a press release from the network, the original Sharktopus' kid will match up with a brand new scientific monster to fight for prowess on the food chain. That original movie will air on August 2 at 9 p.m. ET.
As Syfy has proven in the past, projects like Sharknado have typically done better on social media outlets than in the actual ratings. If the network is hoping that "Sharknado Week" will cause a social media heyday, the channel just might get it. However, if this translates into huge ratings, I'll consider naming my firstborn Sharknado.
Reality TV fan with a pinch of Disney fairy dust thrown in. Theme park junkie. If you've created a rom-com I've probably watched it.
Your Daily Blend of Entertainment News
Thank you for signing up to CinemaBlend. You will receive a verification email shortly.
There was a problem. Please refresh the page and try again.