So You Think You Can Dance: Ricky Palomino And Ashlee Langas Leave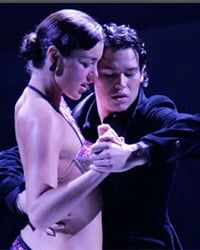 Hello fellow 'So You Think You Can Dance' fans. There may have been a fear of TV Blend avoidance of the annual dance competition where real dancing occurs, but let them be put to rest. We simply had to get through the mire of overall boring auditions. Unlike 'American Idol,' which can be entertaining to watch as misguided hopefuls get berated by judges and editors alike, 'SYTYCD' leaves a bit to be desired in the early weeks. Hey, I'm all for Sex' return to the stage. I guess it comes down to the fact I couldn't sing a note to save my soul, but I have done a minor amount of dancing. It's an art that I have a great respect for, and when the Top 20 contestants take the stage there's a whole level of enjoyment that's a rare treat for the average viewer. Dancing is sexy, emotional, and just a whole lotta fun.
The bottom six dancers this week were really no surprise. Mary said America got it wrong because we don't know what these people can do. Au contraire, we judged based on what was put out. Before the competition began I picked Ricky as a Top 3 guy easily, and then last night he sabotaged my plans with a travesty of a performance. I just can't get over how goofy and spastic he is, but there's no doubt during his solo he proved what a proficient dancer he is. Nigel spelled it out that proficiency isn't always enough though. The only other notable solo performance was from Ashlee, who was everywhere on stage. It didn't look like a routine you'd perform when striving to remain in the competition. But it all comes down to the worst, relatively speaking.
Unlike the judges, the decision on which guy I wanted to go home wasn't hard. Cedric was the only one of the three men who I'd be willing to watch again based on the previous night's performance. Dominic or Ricky leaving mattered very little, and it so happened that Ricky was the first guy to leave the competition. Ashlee left because she didn't perform a solo worthy of the show. So, it's goodbye to Ricky and Ashlee and a fond farewell to flailing limbs.
Let us all now take our place on that holiest of thrones, judgment. How did the 10 couples fair in the first outing?
Jaimie Goodwin and Hok Konishi: The casual observer may not see the vast differences between break dancing and hip-hop. They both seem to be cut from the same mold. The truth is break dancing is a physical art form and hip-hop is quite a bit more emotional in the storytelling. Shane Sparks put together a rather mundane routine for the duo to perform, and both surprised me with their confidence in a foreign world. In particular Jaimie, a contemporary dancer, held strong with the more confident Hok during the routine. The staccato movements in hip-hop eluded her on a few occasions, but for a white girl with no training she was good. Hok was in his element for the routine. Grade: B
Anya Garnis and Danny Tidwell: Anya's dancing may be the sexiest on stage this season, so far she hasn't disappointed in that. Danny is a bit overconfident in his abilities. Technically he is strong, but there are moments when it just seems he's unwilling to bend to new choreography. Play it back on your DVR and watch some of his lines to see what I mean. It's a real shame because each one on their own is greater than the pair they make. Grade: B+
Lacey Schwimmer and Kameron Bink: Let's just get it out of the way…Lacey is the younger sis of last season's winner Benji. OK, moving on. Wow, this was just a phenomenal piece to watch. Both dancers really stepped up to the moving and volatile choreography Mia put together for them. The judges correctly pointed out Kameron's role as a prop, and it showed in his solo sections. Lacey is as wonderful on stage as her attitude suggests, and while it can get grating she never lets her overconfidence burden the performance like Danny does. The credit here should really go to Mia Michaels though. She pretty much had the pair perform a tawdry sex scene, and you can't go wrong with that. Grade: A
Sabra Johnson and Dominic Sandoval: The best I can say about this performance was that they really attempted to get it down. Dominic was about as far from his comfort zone as he could get without doing a Waltz (that'll be interesting). There were OK moments, and I applaud Dominic for going for it. He looked like John Travolta after a night of binge drinking though. Actually, Nigel is right – Dominic does have the look of John Leguizamo – he just has to become half the performer to stick around. Grade: C-
Ashlee Langas and Ricky Palomino: Ricky looked so lanky in the auditions that I was surprised how much Ashlee towered over him. Add that with his goofy demeanor and there was no way the pair could pull off a sexy Argentine tango. This was a disaster all the way through. It was like watching two dancers count steps in their head as they moved across the floor. Me making a PB&J sandwich is sexier than this. There was absolutely nothing between them, and I doubt fixing the height problem would alleviate the issue. Ricky's mathematical formulas didn't help his dancing – he probably forgot to carry the 3 – and it'll take more than this to stick around. Grade: D-
Sara Von Gillern and Jesus "Chuy" Solario: Once again the choreographer shines in the routine. Wade Robson threw together something original and highly entertaining. The concept is a pair of Vagabonds in the early 1900s performing "mini-cabarets" for imaginary friends. It sounds a bit trite when you hear the concept, but the execution was brilliant. For my money this was the best performance of the night. Technically Sara lost a bit of the translation from B-girl to modern contemporary, but she completely fell into character. Grade: A
Jessi Peralta and Pasha Kovalev: Maybe it's me, but Jessi is annoying. The "save me from my desk job" routine grates on my nerves. The waltz is a dance that can easily be boring for a contemporary audience to watch. It's stuffy and full of itself by the very nature of the style being for nobility in the way back when. But when two people are able to glide gracefully across the stage – and you have a female with tremendous extensions – you're in for a real treat. The duo performed the waltz nicely. Grade: B
Faina Savich and Cedric Gardner: Cedric was "ridiculous" in a good way. Faina was simply ridiculous. From the corner hooker outfit to the rough movements she was abysmal. Yes, Cedric is a smooth hip-hop guy so we expected him to outshine his partner this week. Faina proved herself to be a one trick pony. Grade: D
Lauren Gottlieb and Neil Haskell: More latin sexy danceness, this time with twice the sexiness. Lauren surprised everyone with her sensual movement, but where was Neil the entire time? Perhaps male dancers are eunuchs and I never got the memo, but it seems impossible to dance with Lauren and not get fired up. Mary told Neil that he reminded her of a male cheerleader, and as soon as it left her mouth the entire problem became clear. If Neil can realize what a tremendous asset Lauren is as a partner these two could shine. Grade: C+
Shauna Noland and Jimmy Arguello: The night ended with a slightly off dance routine that still ended up being enjoyable to watch. There were some notable problems with Shauna, but the duo danced like monkeys on crack. So much energy, and so much fun. Jimmy outshined his partner by a mile, bringing some semblance of balance between the wonderful females this year and mostly mediocre males. Grade: B
The opening week of the real competition on 'So You Think You Can Dance' busted out of the gate with some top tier routines. I'm gonna miss having to look at Ricky's constipated expressions as he tries to keep up with what's being said to him. There's nothing sexier than a woman confidently dancing on stage, and if Lacey, Anya and Lauren are any indication this should be a hot competition. The summer has just begun and the jury's still out, but it looks like the Top 20 may be able to dance.
Your Daily Blend of Entertainment News
Staff Writer at CinemaBlend.