So You Think You Can Dance Watch: And The Winner Is...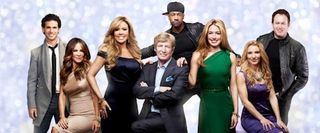 Eight weeks ago, after a month of auditions and a painstakingly brutal Vegas week, twenty of the best dancers in America began to dance for America's votes. Right from the get-go, it was clear that this season's crop of female dancers was, by far, the best that the show had ever fielded. Nigel collectively dubbed them "the beasts", because or their tendency to leave their male competitors in the dust. Of course, the rules of the show decree that one guy and one girl be send home every week, and Wednesday night, the top two guys and top two girls danced five blistering routines, four duets and one solo, in order to be crowned champion.
Guamanian Marko Germar once had the misfortune of being shot during a convenience store hold-up, and the bullet has remained lodged in his shoulder ever since. He finally got a chance to perform for both his mother and his father, exceeding the judges' expectations and his own right from the start. Filipino B-boy Tadd Gadduang amazed everyone by taking to styles and genres far outside his comfort zone like the proverbial duck to water. Whether it be ballroom or contemporary, hip-hop or Broadway, Tadd breezed through with style, charm and an effervescent personality.
But this season has belonged to the girls; or, more specifically, two girls, who have been neck-and-neck the whole time. Modern dancer Sasha Mallory, who originally auditioned with her heavyset but extremely capable sister Natalia, threw herself headlong into every routine she was given, owning every genre and commanding the stage like the second coming of Grace Jones. Perhaps the fiercest competitor the show has ever had, Sasha has shown vulnerability and humility at all the right times. Watching her metamorphose from a hesitant young woman, unsteady and unsure of herself, to the magnificent creature she has become has been truly remarkable.
Not to be outdone, 19-year-old college student Melanie Moore decided to ditch her art-class paintbrushes and capture the hearts of all within her field of view. With bright, twinkly eyes, short boyish hair and a gentleness that seems to radiate from every pore, Melanie has delighted and captivated America with her winsome personality and her phenomenal dancing skill. A natural actress as well as a dancer, she has brought as much drama and emotion to her dance as is humanly possible, turning every routine into a story that we want to hear over and over again.
On Thursday night, a winner was announced. If you want to know who it was, just pan down to the bottom of my recap. For in between now and then, the entire Top 20 was reunited on the SYTYCD stage, along with several assorted All-Stars, to revisit some of the judges' favorite routines of the season. And almost all the choreographers were there, either in the audience or riding shotgun at the judges' table. Nigel and Mary, of course, along with Lil' C, Robin Antin, Tyce Diorio, Sonya Tayeh, and even celebrity guest judge Jesse Tyler Ferguson.
First up was the entire Top 20 doing a new Sonya Tayeh jazz routine, a really kick-ass number featuring a lot of crazy hair and sexy leather outfits. After the introductions are made by the lovely Cat Deeley (and let me just say how freakin' AWESOME it is that she's received an Emmy nom - it's about time! – she's the coolest talent show host on TV, just a hair ahead of Nick Cannon, and 200 miles ahead of the slice of dry toast Ryan Seacrest has become), we get a whirlwind montage of the audition rounds, Vegas Week and the eight weeks of competition. The bumps, the bruises, the dramatic trips to the hospital. The highs, the lows, the funny bits, the scary bits, the batshit crazy bits. The Gaga. And lots and lots of kissing.
I guess now would be a good time to tell you what's in store for the winner. In addition to joining the rest of the Top 10 on their fall tour of America, the winner gets a prize of $250,000, will be featured on the cover of Dance Spirit magazine, and will join past contestants Lauren Froderman and Steven "Twitch" Boss as a "Gatorade Athlete". (If you didn't know, the folks at Gatorade recently decreed that dancers push themselves just as hard, if not harder, than professional athletes do, and will reward this season's winner with a G-Series Fit print campaign.) That ain't bad!
Mary's first routine of choice was last week's Tyce Diorio contemporary routine involving Sasha and All-Star Kent, a routine that will probably be remembered as "the wall dance". This was followed with a pick by Nigel, who wanted to see the Week 3 Nappytabs hip-hop routine with Melanie and Marko, the same one that featured them sharing a passionate smooch, both on- and off-stage. This was one of my favorites as well, and I think that was the moment I fell in love with Melanie as well.
Robin Antin's choice for favorite routine of the season occurred in Week 7, and it was the Mandy Moore jazz bit featuring Tadd and Season Seven champ Lauren Froderman. Set to Queen's immortal "Another One Bites the Dust," this was a spectacular choice, because it fit Tadd's style perfectly, as well as being wicked cool. Lil' C's first choice goes all the way back to Week 2, a Nappytabs routine with Miranda and Robert. Wow, that really does seem like ages ago. I vaguely remembered it after they performed it again.
Then, it was actually Cat's turn to pick a routine, and she decided to go with the group routine from the Week 7 results show, a contemporary piece from Tyce Diorio. Not sure why, but rather than having the dancers re-dance it, they just showed the video from that night. This was followed by not a duo, but a trio: contestants Jess and Nick were joined by the current champion of the UK version of SYTYCD, a guy named Matt Flint, part of whose prize for winning included appearing on the American show. It was a tap routine, and it got me about as excited as tap routines tend to do… which ain't much.
You knew this next one was coming: the gorgeous Week 7 Mandy Moore contemporary routine which featured Melanie flinging herself halfway across the stage into the arms of All-Star Neil. It was so poetic and lyrical, and I didn't even mind that it was set to "Total Eclipse of the Heart," a song I have heard way too many times in my life. Week 7 (I think I called this week the single greatest show ever) is showcased again with Jesse's pick, the Sonya Tayeh contemporary routine pairing up Marko with All-Star Allison. Once again it was great, proving that nothing tugs at the heartstrings than a well-placed Jeff Buckley song.
Time for another group routine, and Tyce picks Sonya's Top 10 girls routine from Week 5, the one where all the girls dressed up like geishas. Hmm, I'd forgotten that one. It was charming, of course. On a side note: I am surprised that not one of Ricky's routines was chosen, given he was the third-highest guy. And even more shocking is the fact that not one of Jordan's routines was chosen either. Dang. If I were on that panel, I would surely have chosen Ryan/Ricky's awesome jazz routine set to Bowie's "Fashion" or Jordan/Tadd's memorable "morning after" Nappytabs hip-hop routine.
We're now about halfway through the show, and it's finally time to reveal some actual results. Cat gathers all four finalists onto the stage, and announces that the time has come to eliminate one contestants. There is a pregnant pause, and the person that comes in fourth place is… Tadd. I'm not surprised, but a little bit sad. I've not mentioned this, but my wife is actually Filipina, and the family dynamic that I share with her relatives is quite similar to that I've seen with Tadd and his brood. He's an inspiration to B-boys everywhere, and that's a terrific title to have.
Lil' C picks next, and once again, he chooses a routine from Week 2, and it was the excellent Spencer Liff Broadway bit pairing up Ashley and Chris (by far the one shining moment for both contestants), which featured Ashley sexing it up for her "incarcerated" boyfriend (yes, there were prison bars involved). This routine is followed by some footage of the Top 4 being invited by the cast of Glee to join them on the red carpet for the premiere of the new Glee 3D Concert Movie, which… I will not be seeing.
It was about Week 6, after Sasha had ditched Alexander and paired up with Twitch for that fantastic Christopher Scott hip-hop routine, that one began to suspect that Melanie may be in for a real fight. This routine, arguably Sasha's best of the year, had everything in it that makes hip-hop cool, and if you haven't seen it, go on YouTube and FIND IT! After that, Sonya decided to further praise Scott's work by having the Top 10 guys reprise their ground routine from Week 6, a really cool number featuring the boys wearing identical grey suits and going in and out of doors like a dance version of The Adjustment Bureau. Chris Scott is awesome.
The next routine, chosen by Jesse, ironically, was the routine that preceded Sasha/Twitch's memorable dance on Week 6. It was the Argentine Tango with Caitlynn and Pasha that garnered Caitlynn her highest marks of the season, and to see it again was fabulous, even if it was a recorded version from that night (I'm guessing because Pasha was unavailable for the finale). This was followed by a choice from Mary, who picked Melanie and Marko's beautiful Travis Wall contemporary routine from Week 1, where the couple played Greek statues come to life. After watching this, one could just tell that that couples was on the show to stay. Their repeat performance was beautiful, but they had to do it without most of the body makeup because Melanie still has one routine left to dance after this one.
Immediately following the routine, Sasha is brought back on stage to join Melanie and Marko, because it's time for more results. Cat lines them up, and announces that the contestant finishing in third place is… Marko. And thus it is determined, that one of the "beasts" will indeed take the crown. I wasn't sure early on if I was going to like Marko, but that went away quickly, because he was such a nice guy it was nearly impossible not to like him. He made the beautiful Melanie look even better, and what she did for him cannot even be measured. He will have a great, great career, believe you me.
Home stretch time. With only Melanie and Sasha left, you had to figure that the final requested routine would be one involving them, and Nigel opted to have them redo their Week 7 show-closer, the hard-hitting and truly "beastly" Sonya Tayeh jazz routine set to District 78's "Game On". And not to sound horribly cliché, but this truly is ebony and ivory, working in perfect harmony. Wow.
And so, after one final commercial break, Sasha and Melanie are brought back on stage. Their video journey montages are played once again, and a hush falls over the crowd as Cat opens the final envelope.
And the winner of So You Think You Can Dance, Season Eight… is…. Melanie!!
A thousand congratulations must go to Sasha, who gave Melanie the run for her money that I thought no one could. But Melanie earned every bit of this victory, not only for being the perfect dancer, but the perfect lady, the perfect person. If it were possible, I would love to have Melanie cloned, because I think we all need beauty, both inner and outer, like that in our lives.
So that's it. I know it's a reality TV and competition show trope that every season must strive to be better than the last one, and this one certainly was the best season yet. At this point, it's truly tough to imagine how they're going to top it in Season Nine, but I will certainly be there, on my sofa and at my keyboard, relishing every moment. Thanks to all of you for continuing to read my stuff. I will spend the remainder of the summer continuing to recap America's Got Talent, another show well worthy of your attention.
Signing off.
*CORRECTION A previous version of this article referring to this season of the show as Season Seven. We regret the error.
Your Daily Blend of Entertainment News