Spoilers From Ugly Betty's Dress For Success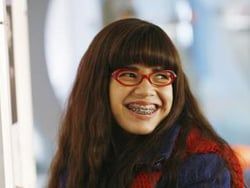 Why is it that Betty always has to learn her lessons the hard way? I had the opportunity to screen an upcoming episode of Ugly Betty, titled "Dress for Success," and it appears that once again, our Betty's naivety has gotten her into a bit of a fashion-related pickle. Read on if you want to hear a few minor spoilers about the episode and a few photos!
Mark your calendars for January 8th because that's when Ugly Betty returns from hiatus! What I'm most excited to report is that Bernadette Peters makes an appearance in "Dress for Success." She plays the woman running the YETI program and Betty soon learns that it's going to take a lot more than flashing that huge metal grin at the woman to get her respect. Given Peters' role in the show, I'm guessing (hoping) we'll be seeing more of her as the season progresses.
Betty's first YETI assignment is to demonstrate her networking skills by making forty new contacts. As Betty's not exactly experienced in the art of mingling, she turns to Marc to help her out. Things go awry when Betty meets the seemingly friendly Teri (played by Hairspray's Nikki Blonsky). Teri's an ambitious woman who isn't above taking advantage of Betty when the opportunity presents itself.
Betty's other issue is that between her job at Mode and her work with YETI, she isn't really able to fit time in with her family.
Meanwhile, Wilhelmina schemes to help Daniel win Molly over in the hopes that she and Connor will break up.
And finally, you may have heard the rumors that someone in Ugly Betty is going to have some health issues. It appears that's true and you'll find out who that person is by the end of the episode.
Ugly Betty will return with new episodes starting Thursday, January 8, 2009 at 8:00 PM ET on ABC.
Image 1 of 7
Image 2 of 7
Image 3 of 7
Image 4 of 7
Image 5 of 7
Image 6 of 7
Image 7 of 7
Your Daily Blend of Entertainment News
Thank you for signing up to CinemaBlend. You will receive a verification email shortly.
There was a problem. Please refresh the page and try again.