Steve Irwin's Final Documentary To Air On Discovery Channel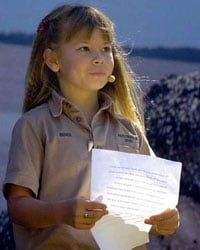 The Crocodile Hunter's final documentary is set to air tonight on the Discovery Channel. The program, ironically titled 'Ocean's Deadliest,' will show no footage whatsoever from the day last September when Irwin was fatally wounded by a stingray.
Irwin's daughter, Bindi, has finished her tour of the U.S., promoting Australia. Bindi, who exudes her father's passion for wildlife, sang about snakes and animals while wearing the Irwin trademark khaki pants at the New York City Center. Along with her mother Terri, the pint-sized conservationist is keeping her father's spirit alive by taking up his mantle.
Irwin's widow has also approved a talking action figure of her husband. Toymaker K&M were prepared to stop the release of the 39-piece Steve Irwin Wildlife Adventure Series after Irwin's passing, but with the recent blessing from Terri, the line of toys will go on sale as scheduled next month.
'Ocean's Deadliest' will air tonight on The Discover Channel. The Discovery Channel will also be airing a special documentary today on Irwin's life, entitled, 'Crikey, What An Adventure.'
Staff Writer at CinemaBlend.
Your Daily Blend of Entertainment News
Thank you for signing up to CinemaBlend. You will receive a verification email shortly.
There was a problem. Please refresh the page and try again.