Style To Air Episodes Of Gossip Girl From The Beginning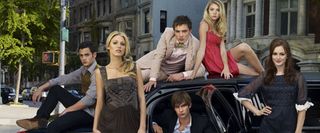 Gossip Girl has been an integral part of the CW lineup since its inception in 2007, creating a program that amped Blake Lively's career up more than a notch and even earned Leighton Meester a vacation adventure movie opposite Selena Gomez. The show, which follows the lives of some of New York's most elite young people, is about to launch its 6th season on the teen-oriented network. However, if you missed the series on its first run through or want to relive the good 'ol days when our favorite characters were still traipsing down prep school halls, you will get your chance very soon.
Style has nabbed the rights to Gossip Girl and the network is taking the opportunity to replay the series from the very beginning. Beginning on August 15, Style will start its new project by showing the first three episodes of the hit CW series. According to TV Line, the network will then show three new episodes every Wednesday, beginning at 8 p.m. ET. Additionally, the network announced an all-day marathon to run on Labor Day, which will no doubt be a blessing for some but an impossible choice for others who typically waste time with blocks of America's Next Top Model episodes.
While Gossip Girl will begin airing its final seasonon October 8, Style's marathon should not interfere with any CW traffic on new episode nights. Season 6 will air on Mondays and the full run of the show will air on Wednesdays, which means dedicated fans of the show can view Gossip Girl multiples days of the week. For everyone else, the show has changed a lot since its inception and I'm sure a good portion of the show's initial audience did not stick around through Dan writing a book, etc. I have a feeling Style will do pretty well when Season 1 and Season 2 re-air, but after that, the airings may be a bit of a lost cause.
Your Daily Blend of Entertainment News