Swamp People Star Mitchell Guist Dead After Boating Fall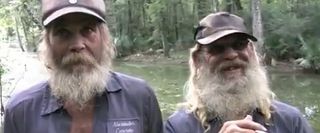 Sad news for viewers of the History Channel's reality series Swamp People: Mitchell Guist, one of the show's stars, has died in a boating accident. Early this morning the alligator-hunting resident of Louisiana's swamp country reportedly fell from his boat and was rushed to the hospital, where he was pronounced dead.
The third season of Swamp People hit the air this February, following strong ratings for Season 2. Guist had joined the series during the second season and starred alongside his brother Glenn Guist. Both were raised in the Lousiana bayou, and lived in the same home where their grandparents also once lived. The bearded duo lived entirely off the land and were skilled hunters, trappers, and fisherman. They joined a cast of other swamp dwellers hunting 'gators on the History Channel show, offering a glimpse into a world most of us can't imagine in the hidden depths of the Atchafalaya swamp. The brothers were set to be a part of a live appearance by Swamp People cast members in Baton Rouge, LA on July 2nd and had a following of loyal fans both on their website and on Facebook.
Associated Press reports that Guist was on his boat when he suffered a fall shortly after 9 am this morning in the Intracoastal Waterway near Pierre Part, Lousiana. He was taken to hospital in St. Martin and passed away there; cause of the fall and cause of death are, at this point, still unknown. Sherriff Mike Waguespack of Assumption Parish where Guist lived reported his death.
Our hearts go out to Mitchell's brother Glenn and all of his friends and family.
Your Daily Blend of Entertainment News