TV Recap: Greek - The Great Cappie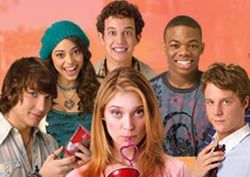 Usually episodes of Greek end on a positive note but tonight was a major exception. In fact, the final moments of the episode were icy cold. Normally Cappie and Evan's bickering is more relaxed and harmless but tonight both of them looked pretty serious as they exchanged words. Does anyone have any idea what "Bing" is in reference to?
I suppose we should start with the overall story of the episode. Lizzie is driving all of the ZBZ's nuts. Her by-the-book attitude and social-skills-drills have taken all of the fun out of sorority life. It doesn't help that the campus police are cracking down on the greeks. It's gotten so bad that girls are starting to quit ZBZ. Lizzie thinks a book club and some Gatsby will get the girls' spirits up. This chick is completely oblivious. Casey manages to negotiate a party out of the Gatsby theme, rather than a book club. Of course, Lizzie insists on no alcohol at the party and instead, thinks a dance instructor will be just the ticket to get the party going. This prompts Casey to talk to Cappie about teaming up with the Kappa Tau's and organizing a speak-easy in the basement of their house during the party.
The party gets started and Lizzie has no idea that people are drinking and making out in the basement while the 20's are roaring upstairs. As Casey put her presidency on the line for this party, she has to make sure their little downstairs shindig isn't discovered. Everything is going fine until Dean Bowman shows up, on Lizzie's invitation. Apparently Lizzie, totally unaware of what's going on downstairs, thought they could score some points with the dean by showing off their squeaky clean theme-party.
Casey rallies the girls and they do their best to distract Bowman. Ashleigh (who incidentally, has a great singing voice as demonstrated by her brief karaoke performance) goes on and on about what she thinks she knows about The Great Gatsby and ends the conversation by explaining that Ferris Bueller is the Gatsby of her generation. This was a nice nod to those of us who recognize Alan Ruck (who plays Dean Bowman) as Cameron from Ferris Bueller. Anyway, Evan reported the party to the campus police but Cappie quickly moves to plan B by stealing the police squad car (which is really just a golf cart), giving the basement partiers time to hide the booze and pretend to be doing a private Gatsby bookreading. When the dean, the police and Lizzie find the basement room full of readers, Casey explains that some of the guys have a hard time reading and they've been helping them. Crisis averted. The party was a hit, no one (except Cappie) got caught and Lizzie gave Casey super-snaps for her greatness.
Now here's everything else that happened. Cappie and Rebecca are having secret-sex all over the place and while they both seem to be enjoying it, Cappie appears to be ready to take their relationship out in the open. As he and Casey are trying to do the whole "friends" thing, I'm thinking his relationship with Rebecca is going to put a crimp in that.
Calvin is still waiting to hear the verdict on whether the Omega Chi's will have him. In the meantime, Rusty convinces him to check out the Kappa Tau fraternity and consider pledging there instead. This is what many of us were thinking might happen. We all knew the Kappas wouldn't care about Calvin's gayness but unfortunately, as it turns out, they don't really care much about anything else about him other than that he's considering dumping Omega Chi. This certainly scores points with the Kappas but they don't really offer him much in return. The Kappas are a laid back bunch but when it comes to the traditional benefits of being in a fraternity (connections with corporations, mentoring programs, a clean house, etc), these guys aren't exactly top shelf. The only real conversation Calvin has with any of the guys aside from Rusty consists of a few awkward words exchanged with Heath.
Meanwhile, Rusty, who seems to be in a permanent state of grumpy these days, calls Evan out for how he and his brothers are treating Calvin. Evan reminds Rusty that the only reason he didn't kick his ass last semester was because of how he felt about Casey. Now that Casey's not in the picture, there really isn't much standing in his way.
And speaking of ass kicking, that's exactly what Calvin probably would've given Trent, if Evan hadn't stepped in. After finding out that Calvin was considering dropping Omega Chi and joining up with the Kappas, Trent (one of the Omega Chi brothers) tells the Kappas he hopes they have enough Cosmo mix for the fairy. Calvin charges Trent and shoves him but Evan stops the fight before it goes any further. Anyway, Calvin doesn't even like Cosmos ("bitch!").
Evan later kicks Trent out of the fraternity (or technically, forces him to deactivate) and convinces Calvin to come back to Omega Chi. When Calvin tells Rusty this, he takes it as Calvin choosing Evan over him. Calvin explains that it's not as simple as that and while both agree that they can still be friends even if they're in different frats, neither seem happy when the conversation is over.
The episode ends with a confrontation between Evan and Cappie outside the jail (where Cappie spent the night after stealing the golf cart). Cappie calls Evan out for ratting out their party and then calls him "Bing." I have no idea what that means but Evan seemed surprised that Cappie used that word and at the same time, concerned that he knew whatever it meant. I'm sure we'll find out more on that in a later episode.
I'll end this recap with a few small comments. One, there wasn't enough Dale in this episode. The minute of screentime (in which he expressed his love for Rascal Flatts, the Carpenters and lame 70's theme parties) was just not enough for me. I also want to see more of that weirdo campus police officer. "Here's your ball." He's quietly hilarious. Also, from the previews, it looks like Cappie and Rebecca will be going public with their relationship. Bring on the drama!
Your Daily Blend of Entertainment News
Assistant Managing Editor
Kelly joined CinemaBlend as a freelance TV news writer in 2006 and went on to serve as the site's TV Editor before moving over to other roles on the site. At present, she's an Assistant Managing Editor who spends much of her time brainstorming and editing feature content on the site.