Team Arrow Is Here And This Is How Badass They Look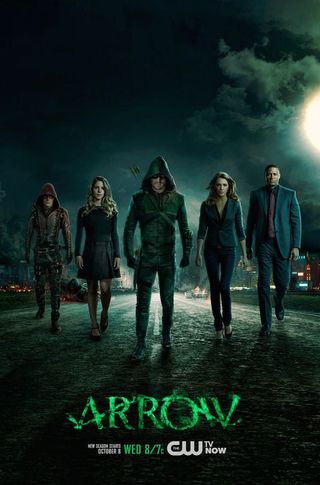 Team Arrow has assembled for Season 3! The new poster clues us in to who stands behind Oliver Queen in Season 3, as if there was any doubt. The group isn't big, but they do have their strengths. From left to right, we have Roy (Colton Haynes) as Arsenal, Felicity (Emily Bett Rickards), Oliver Queen (Stephen Amell) as the Arrow, Laurel Lance (Katie Cassidy) and John Diggle (David Ramsey). These are Arrow's people.
Behind this group, Starling City looks like it's seen better days. There's at least one car overturned and another that appears to be on fire. Whether this tease of a city in chaos meant to be taken literally or figuratively remains to be seen. But the city is not without its hero, and the hero isn't without his team. Who's missing from this group? Well, if we compare the above poster to the Season 2 poster, Thea and Slade Wilson are the only two characters absent. Manu Bennett's character's arc was wrapped up (for now anyway) last season, and Willa Holland's character Thea was last seen climbing into her father's limo, headed off for an unknown future. While we don't yet know what Thea's up to, beyond smashing stuff -- see this trailer -- she's not likely to be all about Team Arrow, at least not right now.
Caity Lotz is also absent from the trailer. We know that Sara will be around, but she's listed as a recurring character this season. We'll see Lotz in at least three episodes, possibly more.
As for who is featured in the poster, behind Oliver, Roy's looking ready for a fight in his Arsenal outfit. And then there's Felicity, who works at Oliver's side both in the office and with Team Arrow. (Barely spoiler alert: She's also expected to have a romantic arc with Oliver this season.) On to Laurel, when we spoke with Stephen Amell at Comic-Con this summer, he said Oliver and Laurel are in an "incredibly good place."
And then there's Diggle, who -- from the sound of it -- will be juggling his priorities with his work and his personal life.
In related news, in addition to the above poster, Arrow has also released more episode stills from the Season 3 premiere for our viewing pleasure. That includes this close-up of Roy as Arsenal...
And a look at Primo Allon as Osborne and Peter Stomare as Werner Zytie (aka Vertigo)...
Check out the rest of the photos in the gallery below. Arrow returns for Season 3 on Wednesday, October 8 on CW.
Image 1 of 19
Image 2 of 19
Image 3 of 19
Image 4 of 19
Image 5 of 19
Image 6 of 19
Image 7 of 19
Image 8 of 19
Image 9 of 19
Image 10 of 19
Image 11 of 19
Image 12 of 19
Image 13 of 19
Image 14 of 19
Image 15 of 19
Image 16 of 19
Image 17 of 19
Image 18 of 19
Image 19 of 19
Your Daily Blend of Entertainment News
Thank you for signing up to CinemaBlend. You will receive a verification email shortly.
There was a problem. Please refresh the page and try again.