Teen Wolf's Charlie And Max Carver Join HBO's The Leftovers Pilot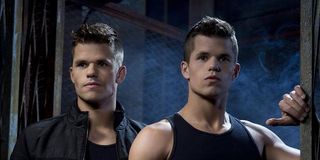 Damon Lindelof is headed back to the TV realm with the HBO drama pilot The Leftovers. Casting has been in full swing for the drama recently, and on Monday it was announced that Charlie Carver and Max Carver have joined the pilot. The real-life twin brothers have signed on to the series playing (you guessed it) identical twins.
The Leftovers will be based on a 2011 novel written by Tom Peretta, which follows the time period after a Rapture-like event in which a good percentage of earth's population disappears, regardless of age, race, and religious affiliation. In the aftermath of the event, people begin to band together in different ways, one of which is a new religious institution called "The Guilty Remnant," which involves plenty of cigarette smoking. The project sounds strange enough and limitless enough to be right up Lindelof's alley, and HBO seems ready and willing to see where the writer and producer will go with the drama pilot.
A few big names have already signed on to The Leftovers. Liv Tyler is shifting from the big screen to the small screen to play Meg, a new member of the aforementioned Guilty Remnant cult who has trouble adjusting to her new life. Frequent film actor Justin Theroux has also signed on to star in the drama as Kevin Garvey. Garvey's the mayor of his town post-rapture, but he has his own familial problems to deal with, since his wife and son are off attempting to buy into new belief systems. His daughter, luckily, still lives at home and it will be his daughter that connects Garvey with the Carver brothers' characters.
According to Deadline, the Carver twins have joined the pilot playing twins named Adam and Scott who happen to be friends with Garvey's daughter. Amidst a lot of darker personalities in the series, Adam and Scott are described as "happy-go-lucky" characters, which is a little opposite of the troubled teens they have played on ABC's Desperate Housewives and the tough and muscled teens they are currently recurring as on MTV's Teen Wolf.
Other actors have also been cast in the drama, but their roles are being kept a little more under wraps. As we noted prior, The Adjustment Bureau's Amanda Warren has signed on to The Leftovers, along with Doctor Who's Christopher Eccleston, The Playboy Club's Carrie Coon, and Side Effects actress Ann Dowd. The lineup is intriguing enough at this point to hope this one makes it to series, but its really up to whether or not Lindelof can manage to put together a catchy and unconvoluted product that will fit into HBO's already-stacked lineup. That's a pretty big task for the Lost executive producer, but no doubt he's up for returning to the small screen.
Amazing Race & Top Chef superfan with a pinch of Disney fairy dust thrown in. If you've created a rom-com I've probably watched it.
Your Daily Blend of Entertainment News
Thank you for signing up to CinemaBlend. You will receive a verification email shortly.
There was a problem. Please refresh the page and try again.