Top Chef Power Rankings: Spam And Shocking Eliminations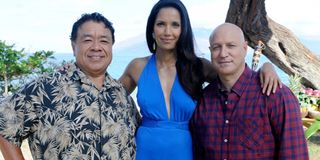 This week's episode began with a few lush shots of Hawaii. The chefs arrived and barely had time to settle before they were asked to go outside. Shirley, Nick, and Nina were convinced a challenge would commence, and they were right. First, though, Louis popped up as the winner of Last Chance Kitchen—a feat considering he was eliminated eight weeks ago. After Louis earned a round of congrats, the chefs were tasked with this week's quickfire challenge: cooking with SPAM. Shockingly, Nick did well with a challenge that forced him to cook with a salty product. He took home the crown, in large part because he thought outside the box.
For the final lead-up to the finale challenge, the chefs were asked to cook with traditional Hawaiian ingredients. They were also told only two of the four chefs would make it out of the challenge and into the last round. Not surprisingly, that sent more than its share of shock waves through the competitors as they realized a pretty good dish would probably send them home.
In the end, they were right. All four judges serve up very good entries, and the judges were forced to pick minor mistakes apart in order to figure out who should get kicked to the curb. In the end, poor Louis was sent packing thanks to slightly overcooking one or two pieces of his fish, and in a shocking decision, Shirley, probably the best chef throughout the season, was given the boot for going a little too sweet with the sauce on her pork dish. That leaves Nina and in a shocker, Nicholas still alive to compete for the Top Chef Season 11 crown.
The Top Chef Power Rankings are an ordered compilation of weekly lists put together by TV Blend writers Jessica Rawden and Mack Rawden. Each week after viewing the episode, they each rank the competitors in order. Nineteen points are given for a first place vote, and this week, eighteen were given for a last place vote. Seventeen competitors have already been eliminated; therefore, those people automatically occupy the bottom slots. Here is how this week's voting panned out, complete with analysis on how the contestants might fare moving forward.
The Remaining Chefs
#1) Nina Compton (38): For a while during Season 11, Nina seemed as if she could do no wrong. Her dishes were consistently well-executed and the judges fawned over them. Then, she had a few missteps towards the end of the competition; but rather than losing her confidence, she showed an ability to correct her mistakes and learn from them. After cooking her way to Hawaii, we expected her to move forward into the finale and she did so thanks to an excellent fish dish. She clearly should be considered the favorite.
#2) Nicholas Elmi (36): You've really got to hand it to Nick. Despite nearly being eliminated numerous times, he managed to stick around and have arguably his best episode of the entire competition at the exact right moment. Could he win? Sure. There are only two people left, and he's certainly surprised all of us before. That being said, it would definitely be an upset.
Swipe to scroll horizontally
Mack:
Nina Compton (19)
Nicholas Elmi (18)
Jessica:
Nina Compton (19)
Nicholas Elmi (18)
Photo Credit: Bravo.
Enthusiastic about Clue, case-of-the-week mysteries, the NBA and cookies at Disney World. Less enthusiastic about the pricing structure of cable, loud noises and Tuesdays.
Your Daily Blend of Entertainment News
Thank you for signing up to CinemaBlend. You will receive a verification email shortly.
There was a problem. Please refresh the page and try again.