True Blood Season 4 Spoiler: Is There Witch-Burning On Its Way?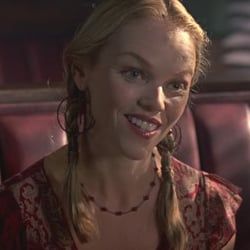 We've already seen some substantial hints that the upcoming season of True Blood will be, as TV editor Kelly West put it, "the season of the witch." Now thanks to some spoilers from The Eagle Rock Patch, the local news site for a suburb of Los Angeles, we're thinking those witches will be catching fire at some point in the season.
The Patch learned that one of the major locations for True Blood, the bungalow house owned by Sam Merlotte the bartender, will be going up in flames at some point in the upcoming season. There's no proof that the newly introduced witch character Holly will be involved in the burning, but given that everyone who's lived in the house has had some connection to Merlotte's and Holly works there, and witches have a bad history with flames… well, you can put the pieces together. We're only speculating here, but it's hard to hear about a major fire without wondering who might suffer in it.
The bungalows will burn to the ground as part of the stunt, thanks to gas canisters and a controlled burn-- obviously the owner has bigger plans for the property. So if you've grown attached the small houses, it'll be time to say goodbye to them at some point in the new season of True Blood, which doesn't have an official start date but will probably debut sometime this summer.
Staff Writer at CinemaBlend
Your Daily Blend of Entertainment News
Thank you for signing up to CinemaBlend. You will receive a verification email shortly.
There was a problem. Please refresh the page and try again.