Two And A Half Men Adds Romance With Judy Greer and Courtney Thorne-Smith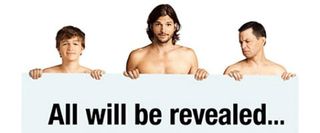 It's been a fine balancing act here at TV Blend. One minute you have to cover the latest Charlie Sheen Roast or Anger Management news, the next it's back to covering the pieces as they are picked up on CBS' Two and a Half Men. I just brought you the latest two promos for the Comedy Central Roast of the tiger-blooded actor and now, I've got some casting news for his former series. Love interests for both of our men have been added... sorry kid, nothing for the half.
Some time ago, details regarding Ashton Kutcher's character started to emerge though the foggy atmosphere surrounding the CBS staple, the most important of which was that our new star/character will be a little love-sick. Who did the Kutch contract this sickness from? Well, TVGuide is reporting that Arrested Development alum (and all around great comedic actress) Judy Greer will be entering the show as the cause of Kutcher's romantic woes.
In fact "Greer will play Bridget, who's in the process of divorcing Internet billionaire Walden Schmidt." Yes, Walden Schmidt is Ashton's name on the show and apparently he's in the midst of a messy divorce. Greer is expected to appear in several episodes over the course of the season and oddly enough, as TVGuide notes, this isn't her first appearance on the show as she did a couple episodes as a Charlie love-interest in 2007.
Divorce for the newcomer, I wonder if the other female addition offers a little more romantic promise for Jon Cryer's Alan Harper. According to EW, one of Cryer's former flames is making a return to the show. Courtney Thorne-Smith is set to reprise her role as she "previously had a 10-episode arc on the show as Lyndsey McElroy, a love interest for Jon Cryer's character." The actress last appeared on the show near the middle of last season and why she's returning is being kept hush-hush. I would assume it's either to torture Alan or to allow Alan to blow it again, either way it's all for our amusement.
Two and a Half Men returns to CBS on Monday, September 19 at 9 p.m.
Your Daily Blend of Entertainment News