Tyler Perry's Live Jesus Musical Will Air On Fox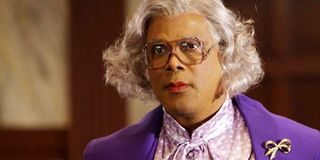 Live musicals have become one of the most ambitious fads on network television, and the recent smash success of The Wiz Live! on NBC means that the novelty has far from worn off. As announced earlier this year, Fox will be jumping on the live musical bandwagon with Grease: Live in January. More exciting, however, is the announcement of the next production that will see a live extravaganza. Tyler Perry will be bringing Jesus-inspired musical The Passion to Fox on Palm Sunday in 2016.
The Passion will follow the story of Jesus of Nazareth as he presides over the Last Supper, then is betrayed by Judas Iscariot, put on trial by Pontius Pilate, convicted, crucified, and – spoiler alert? – resurrected.
While The Passion is certainly not the first musical to tell a story based on the life and death of Jesus, Tyler Perry's production promises to be completely different from Jesus Christ Superstar and Godspell. The Passion will be set in modern day and unfold at some of the most iconic locations in Tyler Perry's native New Orleans. To give an idea of the scale of the production, there will be a procession of hundreds of people carrying a 20-foot, illuminated cross from Champion Square outside the Superdome to the live stage at Woldenburg Park on the banks of the Mississippi River.
Scale aside, The Passion is more of a gamble for a live musical theater venture than the well-known and beloved Grease for Fox, but Tyler Perry's reputation as a writer, actor, producer, and director precedes him enough that he should draw an audience. It certainly won't hurt that the musical about the death and resurrection of Jesus is set to air on the Sunday before Easter.
Tyler Perry may be helming the project, but he won't be alone in bringing it to the small screen. Hit music producer Adam Anders of Glee and Rock of Ages fame will be on board as executive producer to create new arrangements of some of the biggest songs of all time and create an all-new score for the special.
The special promises to feature a cast of some of the most talented performers on the music scene. While there have not yet been any names released, there can be little doubt that the epic story and experienced team behind The Passion will be enough to attract some big names to the project. Tyler Perry himself will host and narrate.
The Passion will air live from New Orleans on March 20, 2016 at 8 p.m. ET on Fox. For a first look at how Fox will handle live musicals with a star-studded cast, check out Grease: Live on January 31, 2016 at 7 p.m. ET.
Resident of One Chicago, Bachelor Nation, and Cleveland. Has opinions about crossovers, Star Wars, and superheroes. Will not time travel.
Your Daily Blend of Entertainment News
Thank you for signing up to CinemaBlend. You will receive a verification email shortly.
There was a problem. Please refresh the page and try again.