The Walking Dead Is Taking Extreme Precautions In Order To Prevent Spoilers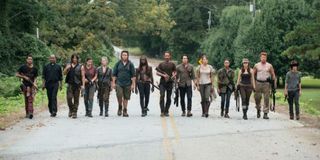 The Walking Dead fans are hungry for more information. It's not an easy task to accept the mystery surrounding the show, particularly with comic book characters that we so desperately want to see make an appearance. C'mon guys, we just want to know if Negan is making an joining in any time soon?! But, The Walking Dead and AMC are not budging, and they are taking even further extreme cautions to prevent superfans from figuring out their secrets in particularly sneaky ways.
We heard about it happening on the Star Wars: The Force Awakens set, where Mark Hamill and crew had to take extra precaution in hiding from fan flighted drones scouring through the air. Yes, drones. Because that is the time we live in now. And when it comes to The Walking Dead it sounds like some fans are trying their way with these aerial attackers as well. The Walking Dead showrunner Scott M. Gimple unearthed to The Hollywood Reporter the difficulty in preserving their story particularly with these technologies roaming freely above. So to do so, Gimple and team have come up with a few tricks. One star of the series, Sonequa Martin-Green (Sasha) explained how:
The Walking Dead has dealt with its fair share of spoilers in the past, but with these drones roaming around, we can't imagine how much more difficult it's become. Even Steven Yeun reiterated how much of a struggle it was dealing with spoiler talk, less so for the annoyance of it but more so because he wants fans to experience the 'best version of what they're doing' not just a quick glimpse near the set.
But the series has acknowledged that it is not only the fans who have been the root of spoilers. AMC has made its mistakes too, like when an ad promoting the season two DVD prematurely spoiled Shane's then un-aired death, or recently when a Facebook photo on the show's official page revealed Beth's fate before the episode had aired.
The Walking Dead continues to take extra precaution, as they've even shifted to writing dummy sides for the actors to audition with, and are careful to change the names of character when sending out casting calls. All in all though, the cast and producers see the efforts of their diehard fans as a compliment, and are glad that some of these more minor reveals can give them something to speculate on until the show starts up again on for Season 6 on Sunday, October 11.
Your Daily Blend of Entertainment News
Your Daily Blend of Entertainment News
Thank you for signing up to CinemaBlend. You will receive a verification email shortly.
There was a problem. Please refresh the page and try again.