Watch Bill Murray Wear A Dress, Throw Back A Tequila Shot On Jimmy Kimmel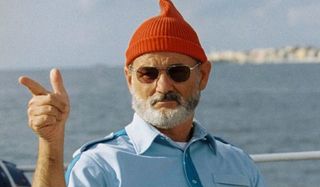 The amazingly talented and always unpredictable Bill Murray stopped by Jimmy Kimmel Live! last night to talk sports, merchandizing and the importance of staying hydrated. His conversational topics were entertaining to say the least, but it was his wardrobe choice and tequila drinking that has gotten people talking. Check out the clip of the Groundhog Day actor below, filmed in Austin, TX for South by Southwest.
As you can see in the above video, Murray clearly has no problem dressing up in women's clothing. Not only did he pull it off--odd as it may look--but he seemed to be more than a little comfortable in his getup. The fact that he didn't dress in full drag, but rather threw in the traditionally manly cowboy boots and hat, is what makes the actor's wardrobe choices all the more peculiar. I'd even go so far as to say he's given new meaning to the term "man bag." Leave it to Jimmy Kimmel to take things to the next level by offering the actor some booze. That, after all, is in the spirit of SXSW.
This is only the latest of many recent hilarious television appearances by Murray. About a month ago he made an iconic cameo on NBC's Parks and Recreation, playing the deceased Pawnee mayor, Walter Gunderson. He was a bit stiffer on the NBC comedy than he was last night on Kimmel, but ridiculously funny, nonetheless.
He also appeared on Saturday Night Live's 40th Anniversary Special, where he sang some ridiculous lyrics for the Love Theme from Jaws.
More recently, it was announced the comedic/dramatic actor will be making an appearance as an "amiable grocery store clerk" on Rashida Jones' upcoming series Angie Tribeca, a police procedural parody show. We can't wait to see what he brings to the table as Vic Deakins, but something tells us it will be a bit more traditional for Murray than the above Kimmel clip.
As funny as Murray's appearance was on Kimmel, we were bummed he didn't take part in any of the late show host's traditional bits like Mean Tweets. Better yet, why not ask him to read bedtime stories to us like Liam Neeson just did last week? Imagine Murray's soothing voice, a couple more tequila shots, and a few pages out of The Jungle Book.Opportunity missed.
Your Daily Blend of Entertainment News
Thank you for signing up to CinemaBlend. You will receive a verification email shortly.
There was a problem. Please refresh the page and try again.