Watch The Celebrity Big Brother House Freak Out After A Misunderstanding About David Bowie's Death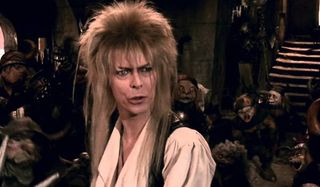 This week, legendary musician, songwriter and sometimes actor David Bowie died following a battle with cancer. He was 69. His ex-wife, Angela Bowie, is actually filming Celebrity Big Brother in the UK right now, and people were concerned she may not be told about David Bowie's death. As it turns out, she was told and then shared the news with Tiffany "New York" Pollard who mistakenly believed she was discussing Celebrity Big Brother player David Guest. You can watch the comedy of errors unfold, below.
In the clip, Bowie walked up to New York and asked her to keep a secret, revealing that "David" had died. New York then had one of the most over-the-top reactions we've ever seen, and we've seen a lot of reality TV shows. Obviously, David Bowie's death was sad and it touched a lot of people, but New York was seriously freaking out. She asked Angela Bowie how it happened, and Bowie replied promptly that it was cancer that ended up causing the singer's death. At that point Tiffany "New York" Pollard panicked to the point where she went outside and explained to the other houseguests that she was told Big Brother player David Guest died.
This was the face of the average houseguest, confused and completely bewildered:
Eventually some of the other cast members confronted a confused Angela Bowie who explained that her ex-husband was dead and not David Guest. As Bowie herself then noted, Big Brother was "a mess."
Honestly, the whole thing reminds me of those Geico commercials when the one guy is talking about "frog" protection and the insurance agent is obviously talking about "fraud" protection. Only, in this case, instead of going off blithely unaware of the difference in words, this time the cast told New York that she meant David Bowie. And instead of apologizing and comforting the woman, New York got self righteous and lies, stating that Bowie specifically said David Guest. We all understand that there was major miscommunication going on in this video, but why cause more drama?
Thankfully, New York finally does get called out after six minutes of this, concluding the story on a much calmer note. But again I feel I have to iterate that this is one of the most wild miscommunications we've ever seen on TV. If you haven't watched the clip, or even an episode of Celebrity Big Brother at any point, this is probably the time to check in. There are so many highs and lows to the video it's difficult to even keep up.
We should note that Angela Bowie was told off-camera by producers that her husband had passed away. She ultimately opted to keep filming, after having stated that she hadn't seen her ex-husband in a long, long time, although she still felt an "era had ended." Perhaps that wasn't ultimately the best decision, considering what happened after. But our thoughts go out to the former wife of David Bowie as well as to anyone else who may have been touched by his passing.
Reality TV fan with a pinch of Disney fairy dust thrown in. Theme park junkie. If you've created a rom-com I've probably watched it.
Your Daily Blend of Entertainment News
Thank you for signing up to CinemaBlend. You will receive a verification email shortly.
There was a problem. Please refresh the page and try again.