Watch Dakota Johnson And Melanie Griffith In The Most Awkward Oscar Red Carpet Moment Of 2015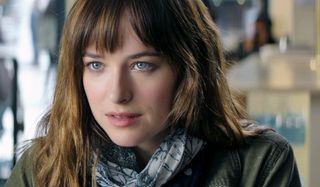 Dakota Johnson has become widely known as the star of the BDSM romance flick Fifty Shades of Grey, but to her mom, she's still just a daughter. And even though Johnson's mom is Melanie Griffith, a Golden Globe Best Actress winner for her performance in the 1988 film Working Girl there was still some awkward tension on the red carpet as the two were interviewed about Johnson's latest blockbuster. Take a look:
When the Fifty Shades of Grey star decided to take her mom as her date to the Oscars, the two must have known that questions about the film would come up. And either the two are just naturally as awkward as Anastasia Steele in the film, or they had already had a tiff about it, because clearly Griffith just wanted to pretend it didn't exist. The red carpet interview with ABC's Lara Spencer ended the same way it began— awkward and uncomfortable. As Johnson gleamed proud of the success of her film, her mother basically flat out said she didn't want to see it. She admitted:
Johnson who tried desperately to save her mother from the extra awkwardness brewing, was insistent that one day Griffith could see it, because after all, it is just a movie. This interaction in general was a little strange because after seeing the film, I really don't think it was as overly sexualized as everyone assumed it would be. Yes, there's a lot of sex, and yes, we see Dakota Johnson's boobs, but it is Johnson's performance that carries the whole film. She's quirky and awkward, and the corny aspects of the movie made it not half bad. But it was Johnson who carried that element, and for that, her mother is truly missing out on an opportunity to see her daughter shine. But, Johnson has stated before that she did not want her mother to see the film, so this interaction is a just weird anyways.
Upon first watch of the above interview, it could easily be said that the two are just bantering like normal mother and daughter, but while that may be true, they still should have been better prepared for this question to come up or at least had known what each other would say. Fifty Shades of Grey has been a crazy box office hit. Not only has the dough been rolling it, but it has also been the talk of the year causing controversy left and right. When the interviewer asked Griffith about the film, it was pretty much assumed she would have seen it. Almost everyone else has. But who knows what the relationship of the duo is.
One things for sure though, Griffith wasn't the only mom to steal the spotlight at last night's red carpet. Emma Stone also brought her mom along, and the two were just too freaking cute. There were also a number of other actors and actresses who brought their parents along. We doubt their relationship was quite as awkward though.
Your Daily Blend of Entertainment News