Watch Jeremy Renner Brush Off The Black Widow Slut Controversy On Conan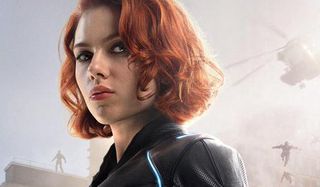 Jeremy Renner's been making the late night rounds recently in support of Avengers: Age of Ultron, and this week he popped up on Conan for more Marvel talk. This time around, he addressed the recent Internet outrage regarding the "slut" joke he made about Black Widow and the flirty relationships she's had with some of the other Avengers. Here's what he had to say about the Internet outrage regarding his take on the fictional character, below.
In the video, Conan O'Brien brings up the controversy that came up just recently when Renner off-handedly called Black Widow a slut, thanks to some light flirting with more than one Avenger on the big screen. He later sort-of half-heartedly apologized for the joke, and during Monday's interview he took the same annoyed tone.
Black Widow, in some ways, has a hard row to hoe. She gets the short stick when it comes to Marvel merchandise and she has to deal with the same supertight hero costumes her fellow Avengers also have to wear, only she has curves. But context is key with this Renner comment. The original interview with Digital Spy featured a journalist asking a leading question about how Renner and Chris Evans felt about all of the relationship hopping Natasha has done during the Marvel movies. Both Renner and Evans cracked a joke about the fictional character getting around as a response to what was a ridiculous question to begin with, and that should have been that. Only we're still talking about it.
When slut is used in a totally derogatory, mean way, it can be damaging. But Renner wasn't talking about Scarlett Johansson or her real-life relationships. He was cracking a joke about how the writers have used the character, and he clearly wasn't even being serious. I wouldn't describe Jeremy Renner as a hilarious or well thought-out comedian; in fact, that joke was almost as silly as the one he made to J-Lo recently. But thanks to the Internet, the level of outrage about jokes has a tendency to rise. Groaning is one thing, demanding an apology is another.
Besides, no one complained that time we called Jeremy Renner a slut.
Your Daily Blend of Entertainment News
Reality TV fan with a pinch of Disney fairy dust thrown in. Theme park junkie. If you've created a rom-com I've probably watched it.
Your Daily Blend of Entertainment News
Thank you for signing up to CinemaBlend. You will receive a verification email shortly.
There was a problem. Please refresh the page and try again.