Watch Jimmy Kimmel Hilariously Trick People With Fake Names For Kim And Kanye's Baby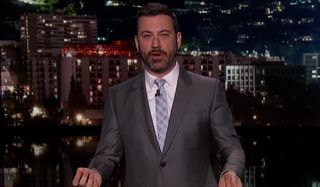 Late night hosts sometimes have to deal with slow news days that don't yield a lot of fodder for their monologues. Then there's a days where a rapper and a reality star name their new baby "Saint," and…well, that's a good day for late night hosts. Jimmy Kimmel of ABC's Jimmy Kimmel Live used this pop culture moment brilliantly with his latest segment of "Lie Witness News" which has people interviewed on the streets for their opinions on the baby name. As it happens; however, Kimmel and Co. made up names of their own. Check it out!
It's hard to say which of the fake names for Kim Kardashian and Kanye West's new baby is funniest. "Kia Sorento" actually has a nice ring to it if the car association is taken out of consideration, whereas "Fievel Goes" is such a perfect name that it's almost a shame that Kim and Kanye didn't choose it. Additionally, the interviewer deserves commendation for rattling off the string of "K" names without tripping over his own tongue.
It's so easy to laugh at the interviewees for claiming to know the name of the baby. After all, if they're appearing on camera for a late night comedy show to answer questions that seem too straightforward, they probably should suspect that not everything was as it seemed.
That, and even the parents who named their first baby "North West" probably wouldn't have gone for "Fastest Gun In The West" for their second baby. Honestly, it's a bit surprising that they could resist the temptation to name baby #2 "South" just so that they could have a matching set. Of course, if they did that, they'd probably have to stop at two kids. "East West" and "West West" just don't have the same ring to them.
"Lie Witness News" is one of Jimmy Kimmel's funnier ongoing segments. From convincing bystanders that Kim Jong-Un was a contestant on Dancing with the Stars, to tricking Coachella attendees into raving about fake bands, to prompting bad football fans into talking about fake Super Bowl commercials, Kimmel never fails to find a way to catch folks in their fibs.
The jibes at the expense of Kim, Kanye, and new baby Saint might feel cruel in the hands of a lesser comedian, but Jimmy Kimmel has the ability to soften harsher humor into poking fun at the ridiculous. "Lie Witness News" was the perfect way for audiences to laugh at the name "Saint" for a baby without going too far.
Jimmy Kimmel Live airs on weeknights at 11:35 p.m. ET on ABC.
Resident of One Chicago, Bachelor Nation, and Cleveland. Has opinions about crossovers, Star Wars, and superheroes. Will not time travel.