Watch This Reporter Get Mugged While Taping The News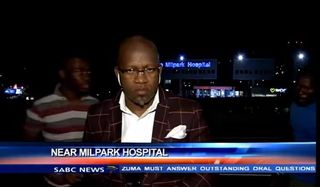 Recently, a news anchor in South Africa was reporting news near a local hospital when the unthinkable happened. A couple of thugs walked up behind the reporter and robbed him at gunpoint while the cameras rolled. It's the kind of act that seems unthinkable, but is very real. Check out the disheartening video, below.
South African journalist Vuyo Mvoko was on camera on Tuesday evening. His task was to discuss President Lungu's (Zambia) arrival to Milpark Hospital, located in Johannesburg, for medical treatment. If you watch the short 49-second video, you'll see two men sneak up behind the man as he is reporting the news. The two men then start harassing the news crew, and you can see them start taking items from Mvoko. In addition, a woman shrieks in the background. The news outlet, SABC News reports that a mugging occurred while the tape was rolling. The anchorman on the tape also confirms the team is being mugged.
SABC news later interviewed Mvoko, asking him about the events that occurred. He noted that the crew had already started filming, but that two men saw the camera and began hovering around the broadcast team. His first reaction was to wonder "who would dare" to bother a live newscast, but he later realized the criminals just wanted to rob them of their phones. The thieves took the entire team's phones, as well as a laptop used in production. Here's the full interview segment.
We've seen plenty of wacky stuff happen on camera, and even in the background of news reports, including alleged drug deals going down behind news reports. Most of the time, what the camera captures are fun or funny moments, including accidentally drawing penises or mislabeling the weather maps with ridiculously high temperatures. There are tons of bloopers of that ilk out there every year.
While most bloopers are fun or at least harmless, it's a little difficult to watch the above video knowing that a few men were brazen enough to simply walk up to a news crew with a marked van and threaten their lives at gunpoint. It's especially upsetting to understand the men knew the video was taping and didn't care, especially knowing that the camera crew was shooting on a street near a major hospital. Someone could have been seriously hurt or killed, and it's lucky the robbers were just looking to score a few cell phones. Hopefully, the news team will have a less eventful rest of the week.
Your Daily Blend of Entertainment News
Reality TV fan with a pinch of Disney fairy dust thrown in. Theme park junkie. If you've created a rom-com I've probably watched it.