Watch Rihanna Wake Jimmy Kimmel Up With An Epic Prank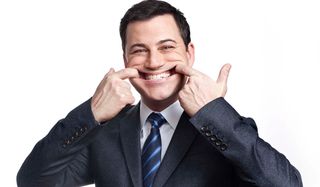 Pranks are an integral part of the late night repertoire of Jimmy Kimmel Live. Yet, as much as the show's titular host dishes out the delicious deception, he's certainly put himself in the position to be on the receiving end of a few farcical fabrications. On last night's show, pop star Rihanna took advantage of April Fool's Day to prove that point, giving Kimmel a dose of his own medicine with a bedroom prank that could probably be classified as epic.
With a little aiding and abetting from Kimmel's wife, the conspiracy was afoot. Rihanna and her posse of DJ's and dancers quietly snuck into Kimmel's house, making their way up the stairs with cat-like subtlety to the master bedroom, finding a face-down-lying Kimmel in bed, practically catatonic. The setup was perfect and with some flashing lights and a push of the play button starting off her song, "Bitch Better Have My Money," an impromptu Rihanna concert commenced. The incident is one of the most intense wake-up calls of all time--the singer even made the room rain in green.
While many-a-man has imagined Rihanna in his bedroom, I'm sure this particular scenario is certainly not what those men had in mind. While some TV "pranks" come across as a little too perfect and carry an air of fakeness, one look at the clearly confused face of Jimmy Kimmel is likely all the proof you need of this bit's authenticity. In fact, it seems to genuinely take him a solid minute after the fact to truly process what is happening. The look on his face seemed to be asking, "Where am I?" and "Who is this insane woman jumping on the bed?"
However, as Kimmel quips in the prank's aftermath, Rihanna did leave him with a bit of a concern regarding the unnamed "bitch" listed in the lyrics to the song she woke Kimmel with, as well as just how much money she was owed. Rihanna failed to divulge if she ever did get the money back from the "bitch" she references in her lyrics, and the host was supposedly left vexed by this most critical of mysteries to the point that it haunted his dreams for the rest of the night. Yet, as evidenced by the pop star's obvious success over the years and the bills with which she was using to making it rain in Kimmel's bedroom, she probably doesn't actually need any bitch's money.
While he may not necessarily ever get to the bottom of that mystery (any more than the one proposed by another famous song asking about the identity of a certain individual who "let the dogs out") you can still catch Jimmy Kimmel Live weeknights on ABC at 11:35 p.m. ET.
Your Daily Blend of Entertainment News
Your Daily Blend of Entertainment News
Thank you for signing up to CinemaBlend. You will receive a verification email shortly.
There was a problem. Please refresh the page and try again.