Why Christopher Nolan Was Not Happy About Matthew McConaughey Doing True Detective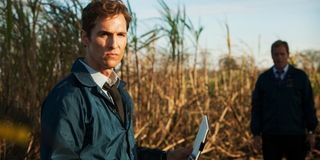 Christopher Nolan and Bennett Miller's fascinating discussion at the Tribeca Film Festival saw the two directors talk at length about the former's gargantuan success on the big-screen. When probed by Miller about his various triumphs, the modest Nolan made sure to note that part of it has always come down to luck. In fact, he even highlighted an amusing anecdote about when he originally set out to cast Matthew McConaughey in Interstellar only to learn that he was shooting a television show by the name of True Detective. Something that Nolan admitted left him slightly worried.
Of course Nolan didn't have to worry because Matthew McConaughey's work on True Detective was just as acclaimed as his performances in Mud, Paperboy and The Dallas Buyer's Club. And Nolan admitted that while Interstellar "got incredibly lucky" by casting McConaughey at the right time, it was also "knowing he was right for the part."
When Nolan originally spoke to McConaughey about starring in Interstellar, his reputation wasn't quite as lauded as it is now, as he had previously spent the best part of the last decade leading mainstream fodder like The Wedding Planner, How To Lose A Guy In 10 Days, Fool's Gold and Ghosts Of Girlfriend's Past. With Killer Joe, The Paperboy, Mud, and Dallas Buyers Club, McConaughey altered his cinematic trajectory and has been riding the crest of the critical wave ever since.
Of course, there was also no reason for Nolan to be worried about McConaughey moving to the small screen because True Detective only aided Matthew McConaughey's renaissance even further. While it also didn't hurt that while the show was on air he also picked up the Best Actor Oscar for his performance in Dallas Buyers Club too.
True Detective was one of the most popular television shows of 2014, and it is often cited as evidence when individuals discuss which is the more progressive medium: television or film. Alongside Woody Harrelson's Martin "Marty" Hart, Matthew McConaughey portrayed Rustin "Rust"Cohle, and the show depicted the duo's pursuit of a serial killer over a seventeen-year period. For his performance McConaughey picked up Best Actor gongs at the 4th Critics' Choice Television Awards and TCA Awards, while the show was nominated and won dozens of other accolades too.
On the other hand, Interstellar is arguably Nolan's most divisive film to date. But despite its lukewarm reviews it still grossed $672.5 million at the box office, and showcases McConaughey at his visceral and commanding best.
Your Daily Blend of Entertainment News