Mythbusters Is Ending, Get The Details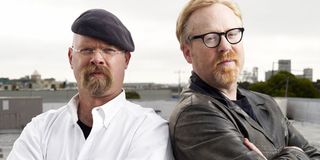 For years, Discovery's Mythbusters has been a mainstay on the channel. The show has been on the air since 2003 and has produced 248 episodes and featured 2,950 experiments during its time on the air. Unfortunately, this week, Discovery made the announcement that Mythbusters is gearing up to end its long and illustrious run. It's a day I hadn't even considered might be coming.
Sure, Mythbusters has gone through some changes over the years. Most notoriously, fans were not happy back in 2014 when over Kari Byron, Tory Belleci and Grant Imahara--over half of the team--were fired, with reports later indicating that money was a major factor. Despite the unpopular changes, the show is such a mainstay on Discovery that it didn't seem as if Mythbusters would be going anywhere, anytime soon. Unfortunately, all good things must come to an end and Discovery's notice says Mythbusters will be ending sooner rather than later. Still, the show isn't over, yet. Mythbusters is getting one more season, which will hit the schedule on January 9, 2016 on Discovery.
The announcement doesn't say whether the decision was Jamie Hyneman and Adam Savage's choice, and because the network didn't note it was the men's choice, I'm guessing Discovery made the call. Still, we'll be getting a few more episodes with the team, and the network says those final few episodes will tackle some wild experiments, including plenty of explosions. (and maybe even some ideas on the guys' wish lists?) The press release gives us a hint about the big finale, as well:
If you've been keeping up with Mythbusters, you may already know that recent episodes have been even more pop-culture oriented, with the show famously tackling topics like Stars Wars, Indiana Jones and Breaking Bad this past season. The show's always had a little pop culture flair, but that hasn't really helped the program to be a huge ratings bringer at the network. Ratings typically decline with age and Mythbusters is more than a decade old at this point. Maybe it's time for Hyneman and Savage to apply their talents elsewhere, but they'll certainly be missed.
On the bright side, Discovery says that all of the episodes of Mythbusters will be shifting over to the Science Channel, where they will air in reruns. That will begin with an epic marathon starting on Wednesday, December 23rd at midnight and ending on Sunday, January 3rd at 8 p.m. ET. The episode will even air in chronological order, which is pretty sweet. Soon after the marathon, the show will return to Discovery for its final season. It's going to be bittersweet, but should be a good sendoff, as well.
Reality TV fan with a pinch of Disney fairy dust thrown in. Theme park junkie. If you've created a rom-com I've probably watched it.
Your Daily Blend of Entertainment News
Thank you for signing up to CinemaBlend. You will receive a verification email shortly.
There was a problem. Please refresh the page and try again.