Why Jennifer Love Hewitt Decided To Leave Criminal Minds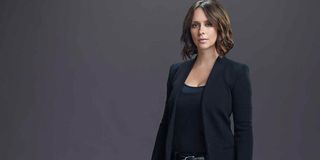 Spoilers if you haven't caught Wednesday's Criminal Minds finale, yet. (But seriously, get on that.)
Anyone who caught the Criminal Minds' Season 10 finale may have been shocked about the outcome. The series spent the entire year introducing fans to Kate Callahan, her husband and the niece she takes care of, Meg. The finale, in fact, was entirely dedicated to those family dynamics, which is why it was such a surprise to learn Jennifer Love Hewitt will not be coming back for Season 11. Now, showrunner Erica Messer has revealed why the show wrote FBI Agent Kate Callahan off the way it did.
If you've been keeping up with Criminal Minds, you should know that Callahan was pregnant on the show during Season 10. If you've been keeping an eye on the gossip columns, you may know that Hewitt is actually pregnant in real life. Following the Season 10 finale, Messer revealed that Hewitt waited until the very end of 2014 to tell the creative team that she was pregnant and is actually due this summer. She told EW that all of the setup for the Callahan-centric finale was already in the works by then and the show had to move forward, despite the fact that Jennifer Love Hewitt had already announced she needed to leave the show to spend more time with her baby. So, they worked it out.
The finale centered on Callahan's family. Throughout the season, her adopted kid Meg had been engaging in risky behavior, meeting people online. However, thanks to Kate's Callahan's work at the FBI, she was put in an especially vulnerable position relating to predators who specifically had a bone to pick with her adopted mom. In the finale, she's kidnapped and the team spends the majority of the episode tracking down the serial killer trafficking ring that initially took her and sold her off to the killer with the highest bid.
Don't worry, by the end of the episode all was well with Meg, but not with Kate Callahan, who decided with a baby on the way, she wanted to be there to spend more time with her newborn, but also the rest of the family. Her exit was shoehorned into the end of the episode without warning, however, with Callahan handing in her notice to Agent Hotchner. That was it. I'm a little bummed for Greg Gunberg's Chris Callahan, who by default has lost a nifty CBS gig, as well. In retrospect, all the character development was pretty odd, considering none of those characters will be back next year, but now that we have Messer's perspective, it makes more sense.
So far, Criminal Minds hasn't figured out who will replace Jennifer Love Hewitt on the series, but our bet is on another female. We'll let you know as soon as the CBS drama moves forward for Season 11. While CBS hasn't officially renewed the drama, Messer's confidence is a pretty big indication Criminal Minds will be coming back (mum's still the word on that spinoff though).
Here's what has been cancelled and renewed so far.
Reality TV fan with a pinch of Disney fairy dust thrown in. Theme park junkie. If you've created a rom-com I've probably watched it.
Your Daily Blend of Entertainment News
Thank you for signing up to CinemaBlend. You will receive a verification email shortly.
There was a problem. Please refresh the page and try again.